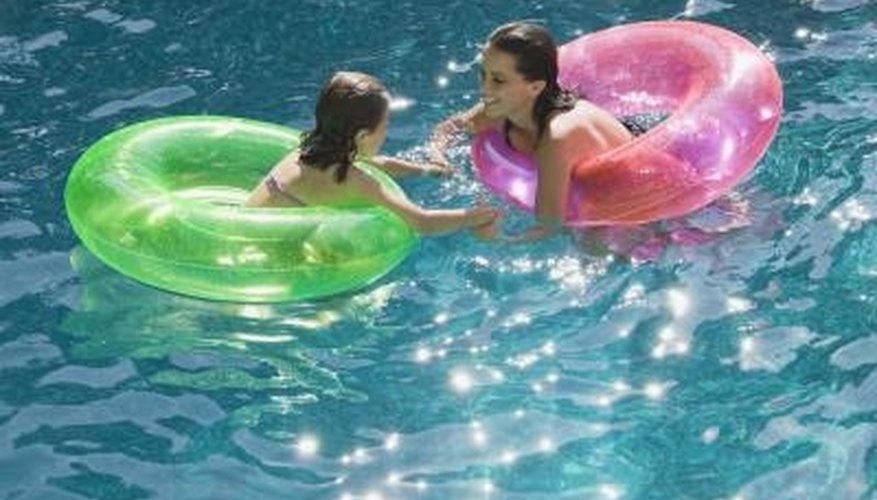 Compared with traditional swimming pools, saltwater pool systems are reputed to be more environmentally friendly, gentler on skin and mucous membranes, and the water is safer for animals. Traditional, chemically treated swimming pools are regularly converted to salt pool systems with the simple installation of a salt generator. These generators use electrolysis to convert common salt into low levels of chlorine that sanitize pool water. The initial conversion of your swimming pool may be costly, but this investment may save you money over time.
Check the with manufacturer of your current pool equipment (pump, filter, heater and so forth) to determine whether the equipment is compatible with a salt system. As salt can be corrosive, check to be sure that salt is safe for the types of pipes used in your system. Replacing and repairing damaged pipes in an in-ground pool is very expensive, so it is better to be safe than sorry.
Select a salt generator for your swimming pool. Choose one from a reputable brand that you trust, with easy to read and use controls and that is capable of producing enough chlorine for your pool. When in doubt, ask a pool-care specialist to help you choose the right generator for your pool.
Drain your swimming pool of all chemically treated water. This water is unnecessary with a salt system and may seriously damage it. Once the pool is drained, refill it with fresh water.
Wire your salt generator, or have it wired, to the same electrical source to which your pool's pump is wired. This ensures that the generator is powered on every time the pump is powered on, so they can work together.
Add the salt to your pool. Pool-grade salt is best, as it guarantees top performance from your salt system. To ensure you use the correct amount of salt for your pool, consult a pool-care specialist. Keep in mind that the amount of salt you add to your swimming pool initially is much greater than the amounts you will add for maintenance over time.
Test your pool water regularly to ensure that your chlorine and pH levels are correct. Home testing kits are available in pool-care stores, or you can take a sample of your pool water to a pool-care specialist and have it tested. Once the water is tested, make the necessary adjustments to ensure your water stays in top condition.