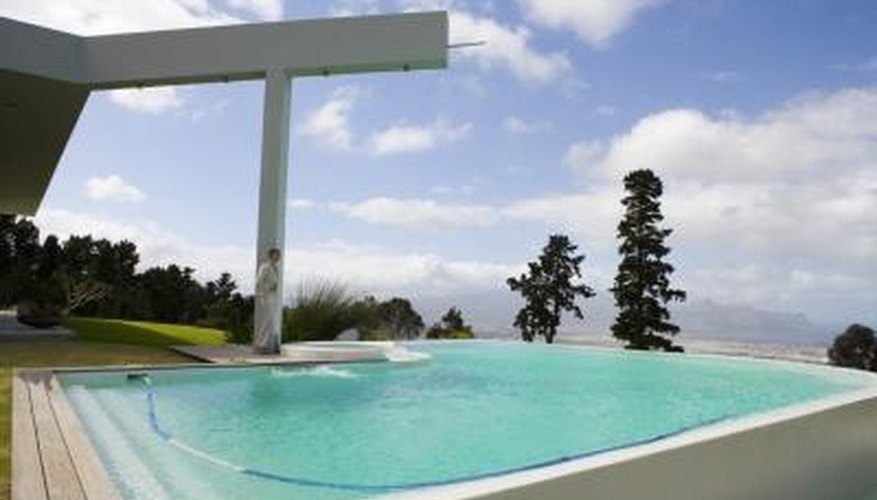 The Waterway brand of pool and spa pumps help circulate the water found in both pools and spas. The proper and regular circulation of a spa or pool's water prevents stagnation, cloudiness and other health concerns caused by idle water. Both the spa and pool version of the Waterway pump operate by spinning a shaft and impeller at a high speed to create water movement. The majority of problems that occur in a Waterway pump involve the impeller or the seal behind the impeller that prevents leaks into the motor.
Remove the Waterway pump from the pool or spa plumbing by unscrewing the quick disconnect unions or collars on the plumbing. Use a hacksaw to cut the PVC plumbing and separate the Waterway pump if no quick disconnect unions or collars exist.
Open the Waterway pump by unbolting the large bolts placed around the pump housing with a wrench. Set the wet portion (section holding the basket) aside.
Latch a wrench onto the motor's shaft behind the pump impeller. Keep the wrench held firmly to prevent any shaft movement and turn the impeller counter-clockwise to unscrew it off the threads on the shaft. Once the impeller comes free of the threads, remove it from the shaft entirely. Move the wrench and slide the ceramic seal and metal spring assembly off the shaft.
Place a new seal assembly with spring onto the motor shaft. Slide it to the back of the shaft and do not touch the front or face of the seal directly. Touching the face of the pump seal gets body oils on the seal, which hampers the seal's ability to prevent water from leaking into the motor. Placing a new pump seal on the shaft stops leaks and allows the shaft to rotate without the friction caused by an old seal.
Spray the impeller with water to clean any debris or dirt off it. Examine the impeller for any size of cracks. Use a new impeller if any amount of cracking or warping exists. Latch the wrench onto the shaft near the pump seal. Place a new impeller or the old impeller, if the old is in good condition, on the shaft. Twist the impeller to the right along the threads until it is fully tightened on the shaft.
Bolt the wet end of the Waterway pump and the motor portion together with the wrench and bolts. Connect the Waterway pump to the plumbing unions or directly to the PVC with glue and primer.