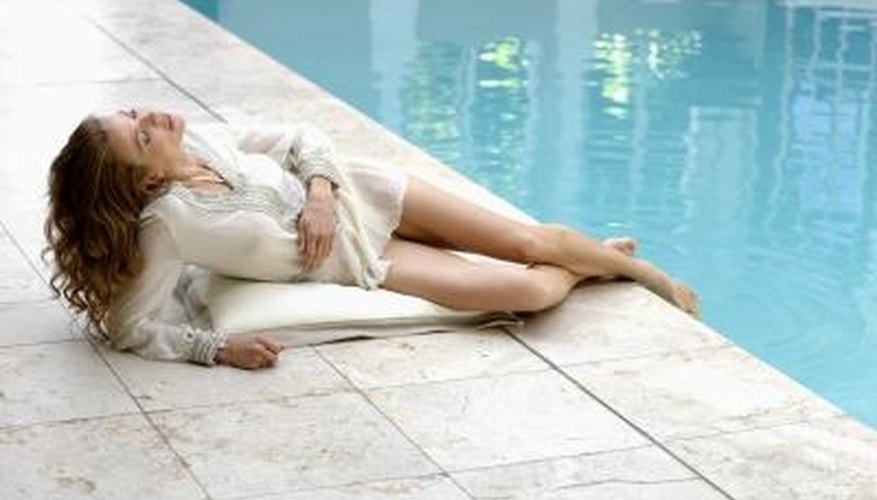 Gunite pools are made of a cement and sand mixture applied through a gun to give the pool its form and shape. While the finished product is very strong, just like any other cement pools, gunite can crack under the ground or become stained if not cared for properly. Keep the water clear and clean by removing debris and testing the pH regularly.
Check the plaster for stains. If you notice them, the gunite may have copper, iron or other metals on the surface. Apply a sequestering agent to the surface to eradicate the stains. Purchase a sequestering agent at a pooly supply and follow instructions on the packaging.
Brush the sides and floor of the pool every day with a pool brush for the first month. After 30 days, cut back to brushing three times weekly. Remove debris from the surface with a skimmer and keep the floor clean with a vacuum. After 60 days, brush and vacuum the pool once a week.
Test the water pH with a test kit. Gunite pools should maintain a pH of 7.2 to 7.6. The alkalinity should be 80 to 100 parts per million.
Add the appropriate chemicals to keep pH within the correct level. Use sodium bicarbonate and sodium carbonate (or soda ash) to increase pH if it's below 7.2. Muriatic acid or sodium bisulfate will balance water that is above 7.6, lowering the pH. Powder, liquid and tablet concentrations are available at pool supply stores.
Look over your gunite pool often because earth shifts or other underground issues can cause in-ground cement walls to crack. Drain the water until it is below the crack. Use plaster, epoxy putty or caulking compound to repair hairline cracks. Large cracks should be addressed by a professional.