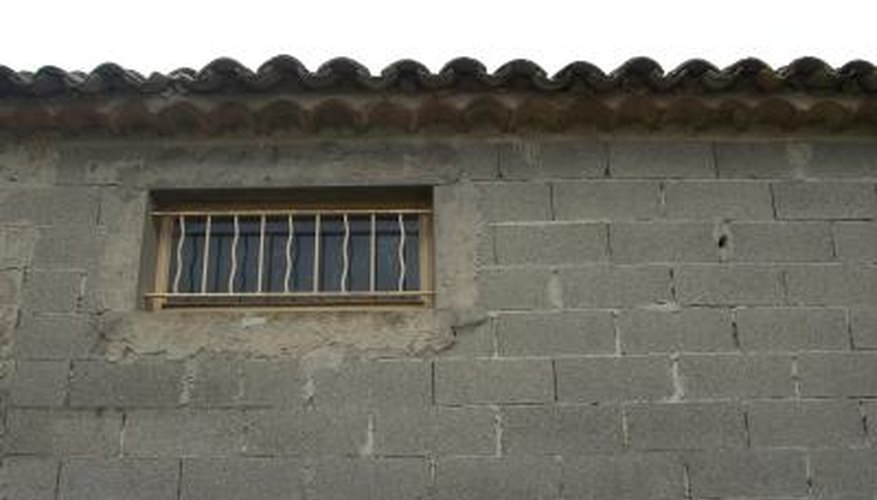 The dull gray color of concrete walls can be unappealing. Whether it's in a free-standing exterior wall or in an interior basement wall, concrete can be made more attractive a variety of ways.
Apply a layer of cement plaster over the concrete wall. Mix the plaster as directed by the manufacturer, and use a masonry trowel to smooth it over clean cement block. The plaster covers the block lines and even provides some moisture resistance. Allow for adequate drying time, and paint the cement plaster to enhance the appearance of the walls even more.
Decorate the cement block walls with paint. Use a rubber-based paint such as cinder block paint to ensure even coverage. This paint is available at specialty stores. Paint the walls a solid color and add a pattern such as a decorative border. Or create a colorful mural that takes up the entire wall.
Apply cement plaster, and instead of letting it dry, apply decorative glass tiles or stones. Stick random objects such as old toys, found objects or mementos into the plaster to create a form of art known as assemblage. Either of these techniques can be done on part of the wall or the entire wall.
Hang curtain panels over an entire interior wall. Use eye hooks to mount a wire that runs from one end of the wall to the other. Use clips to attach the curtain panels to the wire.
Use a faux finish on the wall. Apply panels of faux brick or stone. Alternative, apply a layer of plaster, and run an item such as a wire brush or a grooved trowel through the wet plaster to create the look you want.
Hang framed prints or family photos on an interior cement wall. Use it as a place to display your paintings or photographs. Cover the entire wall from floor to ceiling, or hang them at even intervals along the wall.