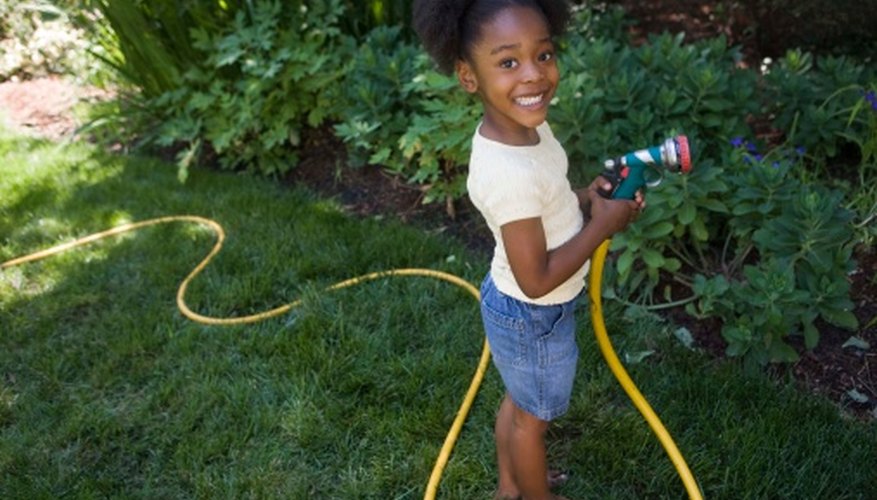 A garden is always a work in progress. Creating the basic outline or shape of a flower bed is a suitable starting point for novice gardeners. Before you take a spade in hand, however, decide the style you wish to convey with your garden. Consider all of the surrounding landscape and architecture when making this decision. Informal gardens tend to have gently flowing curves, giving them a naturalized look. Formal gardens, on the other hand, have straight lines, geometric shapes and sharp angles. Sticking to one style or the other for the entire landscape unifies the property.
Shaping An Informal Garden
Monitor sun exposure and check the soil drainage in your yard to determine the best location for your informal garden. Based on the plants you plan to include in the flower bed chose a site with full or partial sun exposure and soil that does hold standing water.
Lay a garden hose on the ground to outline a curved bed in the desired location. A free-form or curving shape looks most natural. With the hose, create a series of gentle curves or one large sweep. Step back and view the shape from a distance and from different angles. Adjust the hoses until the design looks natural.
Cut a V-shaped trench with a spade all along the outline. The trench should be 1 to 2 inches wide and deep. This keeps the adjacent lawn from encroaching upon the garden and visually separates the two areas.
Dig out the interior of the shape with a shovel or tiller. For a freestanding flower bed, gently mound soil in the center of the shape to ensure good drainage.
Leave the trench open or install permanent edging to help hold the shape. Aluminum, plastic or steel edging is available at home and garden stores. Stone, brick or other material can also be used as edging. if edging is not used, re-dig the trench periodically to keep the garden's shape.
Shaping a Formal Garden
Choose the size, placement and shape of your formal garden. Squares, rectangles and circles, as well as symmetrical and uniformly sized flower beds, make up formal gardens.
Plot a straight-lined bed by measuring in regular intervals its desired distance from the house. Mark each interval with flour, marking paint or by overturning a divet of soil. For a circular bed away from the house, press a garden stake in the center of the proposed garden. Tie twine the length of the desired radius to the stake. Walk around the stake, with the twine pulled taut, marking the boundary with flour or spray paint at regular intervals. This creates a perfect circle.
Dig a V-shaped trench, 1 to 2 inches deep and wide, along the outline. Dig out the center of the shape. Install edging in the trench.