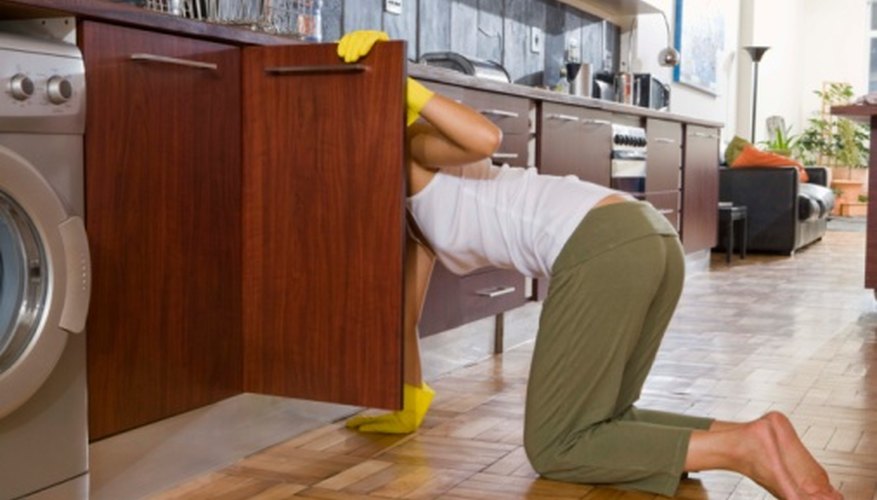 Painting your cabinets with high quality Benjamin Moore paint gives you a way to create the look and feel you want in your kitchen area. Most kitchen cabinet paints made by Benjamin Moore feature waterborne resins and colorant, an improvement over the oil-based, stinky and slow-drying paints used in the past. This paint stands up to constant use and repeated cleaning, a necessary trait when it comes to kitchen cabinet surfaces.
Remove the doors and drawers from the cabinets. Take off any handles or hardware from the cabinets you plan to paint. Or, you can carefully tape off these areas so you do not get paint on them.
Lay drop cloths around the cabinets you want to paint.
Sand old wooden kitchen cabinets with 150-grit sandpaper, then use a damp rag to brush off the resulting dust. If you plan to paint new cabinets, skip this step.
Tape off areas next to appliances and the ceiling that you do not want to paint. Brush
Brush on a coat of paint primer to ready the surface for the new paint. Allow the paint primer to thoroughly dry for several hours.
Open the can of paint, then stir it to make sure the color looks evenly distributed. Pour some of the paint in the roller tray.
Dip the roller in the paint, and start painting the larger surfaces of your cabinets with a zigzag pattern similar to an "M" or "W". Use the paint brush to paint smaller areas of the cabinets the roller can't reach.
Use the stepladder to paint the upper kitchen cabinets, using the same zigzag method.
Apply a second coat of paint to your cabinets if the paint does not thoroughly cover the previous color or wood. Make sure the first coat of paint is dry before applying the next coat.
Things You Will Need
Sandpaper

Primer

Rags

Drop cloth

Stirrers

Benjamin Moore paint

Rollers

Roller covers

Roller tray

Painter's tape

Paintbrush

Step ladder
Tips
If you plan to make an extreme color change on older cabinets, use a primer coat tinted to the color of your final coat of paint. Benjamin Moore offers color samples, chips and color cards to help you identify the colors you need for tinting the primer.

Use high quality roller covers to reduce splattering.

Prevent rollers from spattering by using the zigzag method to apply paint.
Warnings
Avoid paint build-up on the ends of your roller, or you may see roller marks on your cabinets.

Do not thin Benjamin Moore paints, since they work without thinning. Thinning the paint may lead to the previous color showing through your new color.
Resources