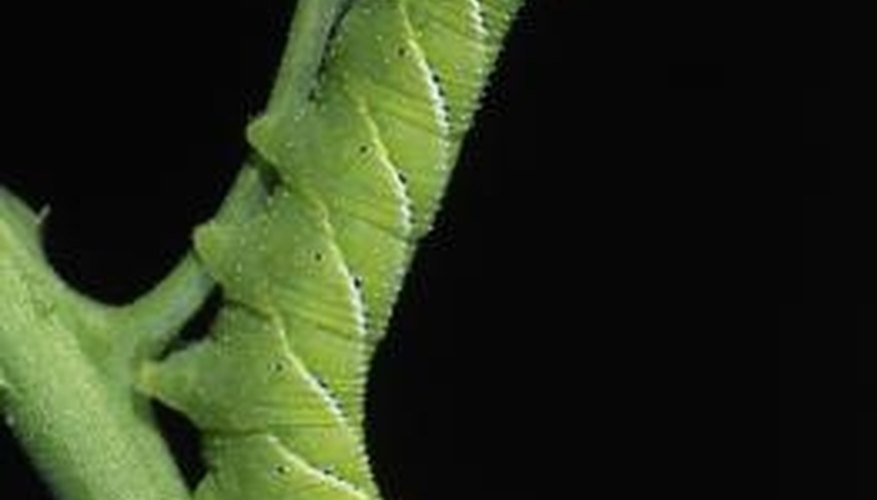 You aren't the only one with your eye on the tender vegetables growing in your garden: Insect pests also want to make them their next meal. While finding holes in plant leaves may seem less devastating than finding holes chewed in your tomatoes and peppers, leaf damage impedes the plant's ability to make energy for growing vegetables. If it progresses too far, such damage can kill the plant. Bringing any pest problem in your garden under control requires correct identification and the use of safe, less-toxic control methods whenever possible.
Identify the pest. Chewing insects tend to be larger and easier to spot and identify. Slugs feed on tender stems and leaves, and you will often find slime trails left behind. Tomato hornworms have a long horn on their posteriors. Minute flea beetles leave tiny holes in the leaves, giving damaged foliage a lace-like appearance. Beetles like the Colorado potato beetle and blister beetle nibble on foliage, as do several species of caterpillar and grasshopper.
Handpick insects from the plants and drop them into a bucket of warm soapy water. Handpicking can especially limit populations of non-flying pests, like slugs and hornworms. Take care when picking off blister beetles, as crushing the beetles releases a substance that causes skin irritation.
Cover plants with floating row covers to prevent damaging insects from reaching them to feed or lay eggs. Row covers exclude pests like Japanese beetles, cabbage worms and cucumber beetles. If you use covers over cucumbers to prevent damage from beetles, remove the covers after flowers appear, as cucumbers require cross-pollination.
Lay down 4 to 6 inches of straw mulch around potato plants to prevent Colorado potato beetles.
Apply diatomaceous earth, lime or sawdust around plants being damaged by slugs. Slugs cannot crawl over these substances to access the plants. Replenish these barriers after rainfall.
Remove weeds from within and around the garden. Weeds often serve as alternate food sources and shelter for pest insects. Clean the garden of dead plants and debris at the end of the season to eliminate sites for pests to overwinter.
Spray insecticides, if other control methods do not work. Always begin with the least toxic products and check the label to confirm that the product has been approved for controlling the pest you have identified. Bacillus thuringiensis (Bt) and other natural products can control pests like cabbageworms and Japanese beetle without threatening the health of people, pets or beneficial insects. Organic pesticides, which come from botanical or mineral sources, include horticultural oils and insecticidal soaps. These have higher risk of harming beneficial insects. Synthetic insecticides may be harmful to people, pets, wildlife, beneficial insects and livestock. Always follow label instructions precisely when using any insecticide product.