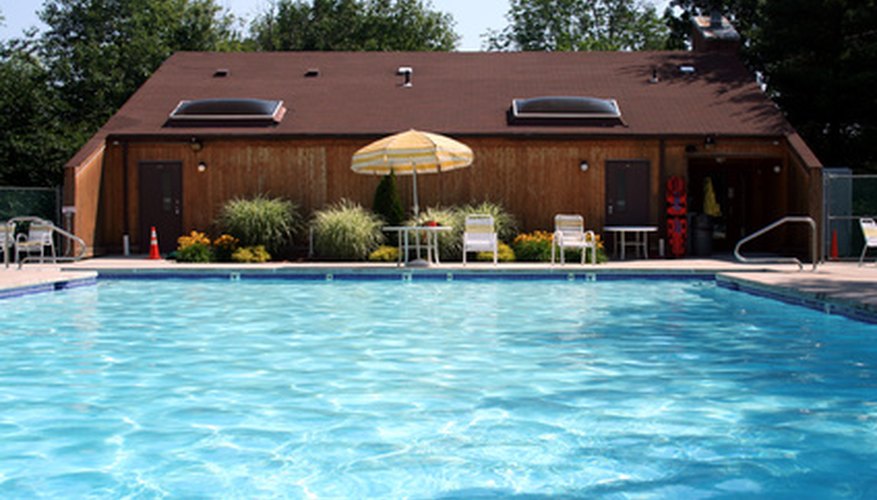 Having your own swimming pool can be a lot of work as a great deal of maintenance and cleaning is required to keep it in top condition. The Kreepy Krauly is a cleaning device designed for in-ground pools, and uses your pool's circulation system to clean the entire pool, including the walls, tile line and floor. It uses special dive float directional guidance technology to make sure no parts of the pool are missed. The Kreepy Krauly uses only one moving part, the flapper, to maneuver the device around the pool. It attaches itself to the walls and floor of your pool via a pleated seal to ensure the best possible cleaning.
Step 1
Turn off your pool pump and close the main drain and all suction lines, with the exception of the line running from the skimmer basket.
Step 2
Take out the skimmer basket. This is where the Kreepy Krauly will connect.
Step 3
Screw the compression adapter into the vacuum at the bottom of the Kreepy Krauly.
Step 4
Push the automatic regulator valve into the compression adapter so the end of the valve marked "Attach hose this end" is pointing up.
Step 5
Put the Kreepy Krauly into the pool, allowing it to sink to the bottom. Feed the hose into the pool so all of the air escapes from the hose and it is completely filled with water.
Step 6
Slide the hose protector onto the hose to prevent it from rubbing against the skimmer wall.
Step 7
Put the end of the hose into the hole in the skimmer opening and connect the hose to the automatic regulator valve. Your unit is now ready to go.