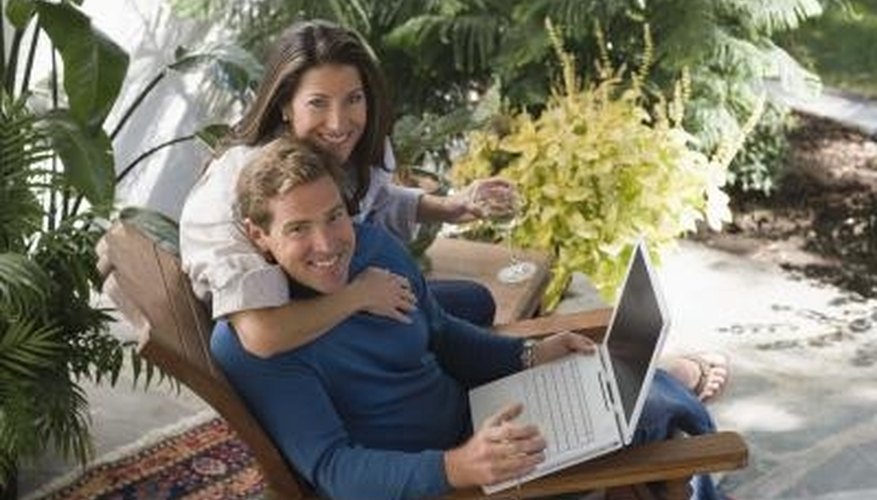 Concrete patios offer pleasant outdoor living spaces that lasts for years. If you are considering pouring one, there are techniques and curing times that must be followed to keep the concrete from developing cracks or being too weak. If this is the way you want to go, Quikrete's Portland Cement or Crack Resistant Concrete are good products to use. To avoid the drying time issues, you can use Fast Set Quikrete instead. This mix hardens to a durable concrete, but dries quickly without the need for the prolonged curing. The process to pour the patio is the same for all.
Tap stakes in the ground where you want the patio and run twine between the stakes to make visible lines. Use a laser to ensure the four corners are square.
Dig out the area with a shovel. Dig down 6 inches. Create a gentle slope in the dirt away from the house. According to the Quikrete site the slope needs to be about 1/2 inch for ever 4 feet. Use a four foot level to check it.
Cover the area with plastic sheeting to keep moisture from coming up from below.
Fill in the 4 inches of crushed gravel and tamp it down.
Measure all sides of the dug space. Add several inches to the front and back board measurements. Cut 2-by-4 boards to those lengths, using a circular saw. You are going to create a frame around the hole to keep the concrete from running. The front and back boards need to be a little longer so that the side boards have something to attach to.
Stand the boards up on their 2-inch sides and nail them together to form a frame around the hole.
Hammer stakes into the ground around the outside of the frame to keep it from shifting.
Mix your Quikrete of choice in a large container or wheel barrow. Have more ready to mix quickly if you don't have a large enough container to mix it all at once. Mix with water following the package directions. If using the Fast Set Quikrete, you need to work quickly because it will set up quicker than other types.
Pour the Quikrete cement into the hole. Have someone help you spread it has it is poured. Keep mixing and pouring in the cement mix until it is up to the top of the 2-by-4 frame. Smooth it with wide flat-edged trowels or drag a 2-by-4 across the top of the boards. Wait until the water evaporates from the top, and then smooth over again. Let it dry for at least a day.
Wet down the Quikrete the next day to dampen it. This is necessary if you chose the Portland Cement or Crack Resistant types so that you can cure it to a harder cement. Dampen it each day for at least 3 days so that the concrete dries slowly.