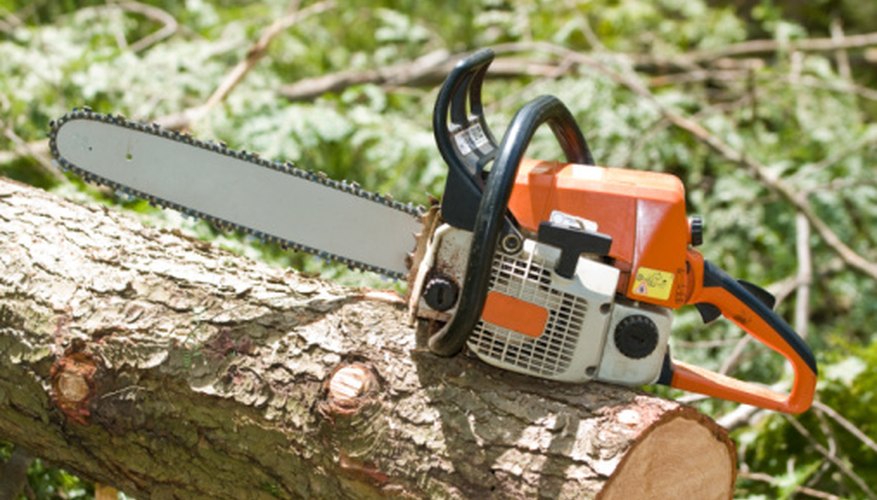 The pull start rope on a chainsaw winds up along a pulley. A recoil spring rides along the inside of this pulley, so when you let go of the rope after pulling it out, the recoil spring snaps the rope back onto the pulley. This spring, if you pull too hard on the rope, can get bent or broken, requiring replacement. Also, after time, the spring may gradually lose its tension and no longer force the rope to recoil along the pulley.
Undo the four screws holding the starter cover in place over the starter and ignition module. Wedge the tip of the screwdriver under the sides of the cover to pop it free from the engine. Pull the cover up and then down to get it free from the front handle.
Take out about 10 inches of rope. Lift and hook the rope into the notch on the upper flange of the pulley. Hold the cover in hand and let the pulley slowly turn backwards to disengage the recoil spring. Undo the screw in the pulley's center using the screwdriver.
Slide the pulley, rope and recoil spring off the starter cover. Wedge the tip of the screwdriver under the tip of the recoil spring; pop out the recoil spring. Set the new spring into the underside of the pulley. Push the spring in until it lies flat against the back of the pulley.
Grease the post on the starter cover with about a fingertip's worth of grease. Place the recoil spring, pulley and starter rope back onto the starter post. Tighten the screw against the metal post in the center of the pulley.
Tension the recoil spring by pulling out 10 inches of rope. Push the rope into the notch on the pulley. Hold the cover in hand and turn the pulley clockwise until you feel tension on the pulley; don't over-tension the recoil spring.
Let go of the rope and it should automatically retract. Push down on the rope's starter handle; it should automatically right itself upwards if the tension is properly set. Repeat the tensioning steps but twist the pulley at least one more full rotation. Flip the starter cover over and tighten down the four screws.