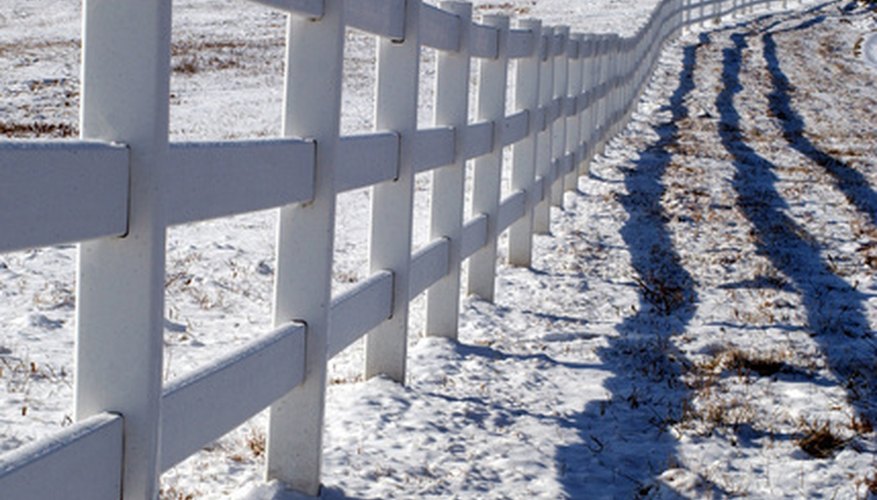 Designing concrete fences and their foundation is a great way to protect your property and to save some money. Concrete fences are long lasting and can be used in even the most hostile climates.
Step 1
Have your land professionally surveyed to establish correct property boundaries. You will need to know the exact property lines and distance you will have to fence. If your property was recently acquired then the land was probably surveyed as part of the transaction and may still be in your files. Measure and flag the perimeter of the property from the survey.
Step 2
Plan to have a concrete post every ten feet, although you can make the posts a shorter distance apart if you want. Buy enough concrete forms for all of the posts. Concrete forms are cardboard shapes that allow you to quickly make concrete shapes. Recruit assistants to also help with the project as the job will entail a lot of digging and hauling of cement. Buy enough cement for the posts. The cement forms will say how much they should be filled with on the side.
Step 3
Dig holes at least two feet deep or to below your winter frost line, and wide enough to accommodate the concrete fence post forms. Use a post hole digger and shovels to excavate the dirt. Then back fill two inches on the bottom with gravel for the bedding. Split up your assistants into teams so you can handle multiple holes at the same time.
Step 4
Mix the cement with water in a cement mixer. The exact amount of water will depend on the type of cement you use, so follow package directions. Once the cement has the consistency of mud, pour it into the form, and then move to the next form. Allow the cement to dry and harden for a day before removing the cement forms from the posts. Score the cardboard forms with a box cutter and peel off the cardboard by hand.
Step 5
Roll out metal fencing between the concrete posts. Drill attachment holes with a rotary hammer and a cement bit. Bolt in the attachment flanges and secure the metal fencing to the attachment flange. Repeat this process for the entire perimeter of the property.
Things You Will Need
Post hole digger

Gravel

Measuring tape

Concrete forms

Cement mix

Water

Metal fencing

Measuring tape

Surveyor

Rotary hammer

Cement drill bit

Attachment flange

Metal fencing
References