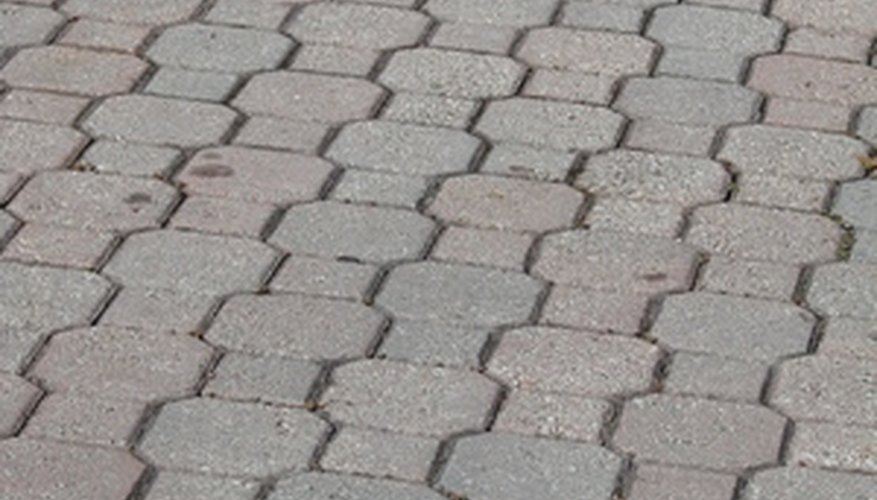 When a patio or walkway is built out of interlocking pavers, there is often a "soldier course" of stones that are not locked into the pattern. These stones form a straight line around the edges of the paved area to add visual interest to the project. To prevent the pavers from shifting under the impacts of feet or wheels, restraints -- either plastic edging or a concrete "toe" -- are normally added around the outside of the soldier bricks. Pouring a concrete toe is cheaper than installing edging, but is slower and results in a less durable restraint.
Prepare a strip of ground 6 inches wide around the edges of your pavers. Ideally, the gravel base for the pavers should extend this far. This will have already been tamped down flat. If the base doesn't extend beyond the pavers, you'll need to dig out any grass or plants and flatten the soil level to the bottom of the pavers. Once the strip is exposed, pound it with the end of a 4-by-4 post to compress the soil so that it doesn't shift once the toe is poured on top of it.
Empty a bag of pre-mixed concrete into a wheelbarrow. Building a concrete toe doesn't require enough concrete to justify ordering a mixer truck. These trucks have a minimum load requirement that is much larger than that needed for the largest patio edge. The cost is not worth it, as a result.
Turn on a garden hose and add water according to the directions on the package, while turning the concrete mix over with a shovel. Most concrete mixes require about two liters of water per bag of concrete, but this varies. Add concrete until the water is thoroughly mixed and the concrete is soft, but still hard enough to hold a slope if you pile some up with a shovel.
Drop a shovelful of concrete every 8 inches along the edges of the soldier course.
Spread the concrete with a trowel so that it slopes up from the ground to the side of the soldier course. It should slope up to a point halfway up the side of the pavers.
Wash out your wheelbarrow and wash all your tools thoroughly to avoid having concrete to stick to them.
Stop work on the patio overnight to allow the concrete to set in place, then cover the concrete toe with topsoil or gravel.
Things You Will Need
Pre-mixed concrete

Shovel

Hose

Wheelbarrow

Trowel

4-by-4 post
Warning
Avoid dropping any wet concrete on the surface of the pavers, as it will be very difficult to clean off. (reference 1)
References