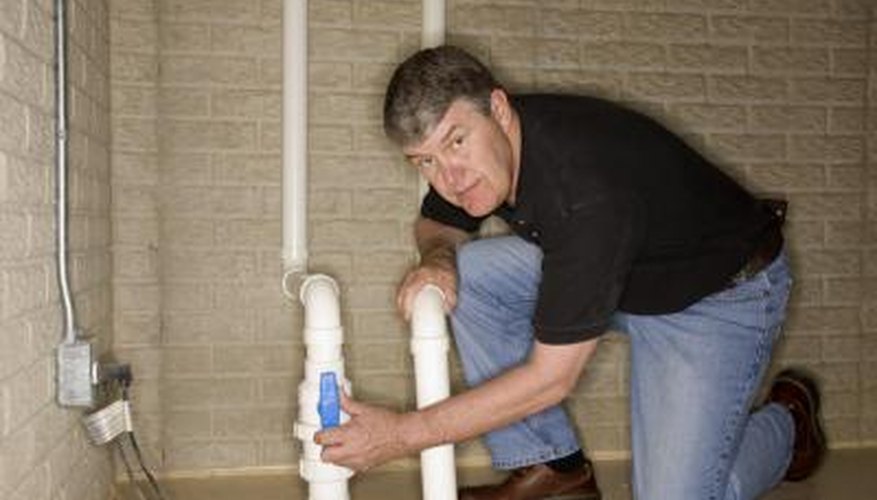 When there is a plumbing leak under a concrete slab it can be a serious challenge to repair. In order to access the portion of the pipe that needs repair you will need to locate it, then break through the concrete to access it. With the right tools such a thing is possible, but you need to be careful not to do serious structural damage if the slab is the foundation of a home, which will probably require you to cut through the rebar embedded in the slab.
Step 1
Locate the portion of the pipe that's leaking by looking for a damp area on the slab. If the dampness can't be explained by weather or any other factor such as spillage from above, then the pipe is likely leaking from below.
Step 2
Mark a rectangle that is at least a foot square, using the square and chalk line. If the rectangle isn't big enough, you may not be able to access the pipe below.
Step 3
Cut into the concrete along the chalk line using the concrete saw. Try to avoid cutting rebar if possible.
Step 4
Break up the area inside the cuts you just made with the sledgehammer, breaking the rectangle area into chunks you can lift out of the hole by hand. Continue cutting, breaking and lifting until you expose the gravel or dirt underneath the slab.
Step 5
Dig into the dirt you exposed with the shovel. You will find the broken pipe between 12 and 18 inches below the surface.
Step 6
Cut the broken pipe on either side of the break. If the pipe is a PVC pipe, use a reciprocating saw. If it is cast iron, you'll need to use a snap cutter. Make sure the cuts are both square.
Step 7
Cut a length of PVC pipe the same width as the pipe you're repairing, and long enough to fit snugly between the edges you just cut into the existing pipe.
Step 8
Secure the pipe section from the previous step in place using neoprene sleeves on either side. Simply slide one end of the sleeve on the pipe section, and other onto the existing pipe, then tighten the sleeve using a screwdriver.
Step 9
Bury the pipe with the dirt you dug out of the hole to begin with, being sure to tamp it down tightly with your foot, and cover the area with gravel if there was any.
Step 10
Mix a bag of concrete in with the amount of water indicated on the bag, and pour the wet concrete into the hole.
Step 11
Smooth the top of the wet concrete with the trowel, dragging all around the edges to ensure the patch is level with the existing slab.
Step 12
Allow the patch to dry for at least 48 hours before stepping on it, and at least a full week before putting significant weight on it.