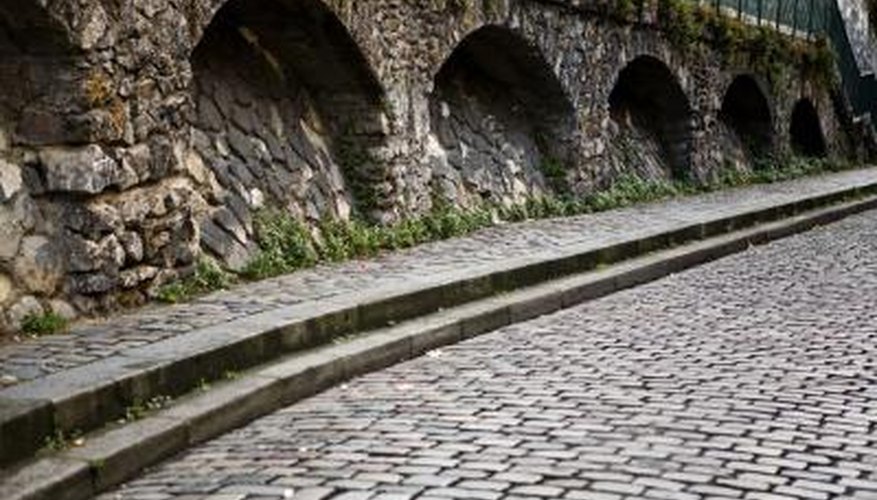 If the foundation of your home or a retaining wall is made of cinder blocks, creating a faux finish such as a fake rock wall will help to disguise the nature of your wall. Fake rocks made of concrete are less expensive to make than purchasing real stone from a quarry. You can apply concrete directly to the cinder blocks to make a low-profile addition to the existing wall. With the application of concrete dye, a fake concrete wall can resemble stone of any color.
Step 1
Mix a cleaning solution consisting of 1/4-cup TSP to 1 gallon water. scrub the concrete surface with a nylon-bristled brush and the TSP. Allow the wall to dry.
Step 2
Mix a base coat of cement using concrete, sand and water at a rate of 2 parts cement, 2 parts sand and 1 part water in a wheelbarrow with a hoe. The mixture you end up with will resemble stucco.
Step 3
Dampen the cinder block wall with a garden hose. The blocks should remain slightly damp when you apply the concrete mixture. The best conditions to apply the mixture in are on an overcast day when the temperatures are between 50 and 60 degrees Fahrenheit.
Step 4
Smooth the stucco over the concrete wall in a 3/8-inch thick coat using a steel trowel. Apply the stucco using curved strokes. This base coat is known as a scratch coat. Cover the wall with plastic to allow it to cure and harden for at least 72 hours. Mist the concrete every other day so that the mixture will harden further.
Step 5
Mix a second application of cement, water and sand in a ratio of 2 parts cement, 2 parts sand and 1 part water. Add cement dye to your water before adding it to stain the cement the color of the stone that you desire.
Step 6
Apply the second layer of concrete over the first layer. Once you add the second layer, press a stone walkway concrete form into the damp concrete. The form will create the illusion of mortar joints between rocks. Carve veins in the rock using the point of your trowel or create pockmarks using a damp sponge with large pores in it. Step back from the wall approximately 35 to 50 feet to determine if the texture looks authentic.
Step 7
Cover the concrete facade with plastic and allow it to dry for 24 hours. Remove the plastic and soften the lines of the rock using a wire bristled brush. Cover the stone with plastic to harden and cure. Uncover the stone surface daily and mist with water to help harden the surface. Cover the surface with plastic again. Remove the plastic when the concrete hardens completely.