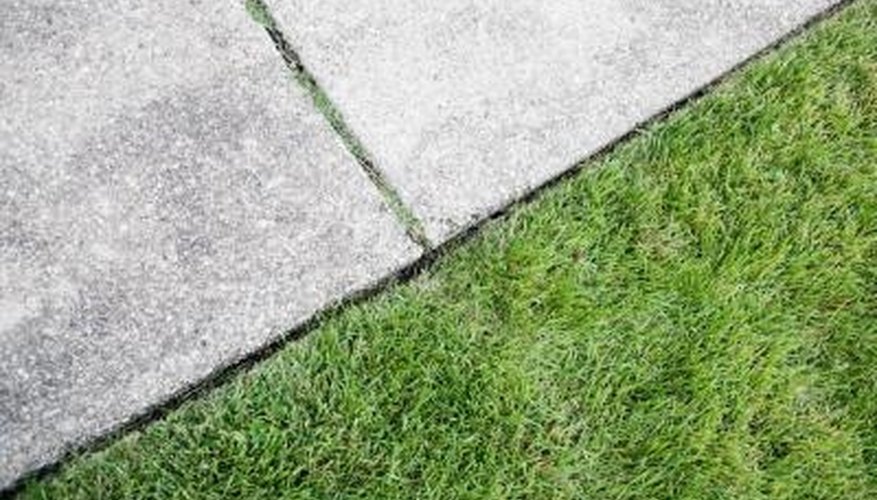 Securing pavers on the ground is a matter of installing a hard plastic border anchored with metal ground anchors. The grass grows and hides the border. Securing pavers to a cement structure does not require any borders to be installed. The pavers are laid across the cement structure using mortar in the same manner as tile installation. Only the edge pavers have to be anchored. The center pavers are elevated on a bed of dry cement to the same height as the edge pavers.
Lay out the pavers onto the existing concrete to gauge the size and determine if any cuts are necessary. Mark the necessary cuts with a marker and cut the pavers with a masonry wet saw. Remove the pavers from the concrete structure, keeping the cut pavers separate from the full pavers.
Mix mortar and water into a bucket. Spread the mortar with a trowel along the edge of the structure to the width of the paver and a depth of 1/4 inch. Drag the notched edge of the trowel over the mortar to create grooves parallel to the edge.
Lay out pavers starting in one corner working around two adjacent edges. Check the level of the pavers as you proceed to make sure all the tops are flush with each other and level. Tap the pavers into position with a rubber mallet. Avoid leaving any gaps between the pavers.
Spread dry concrete to a depth of 1/4 inch over the remainder of the structure excluding the two other edges. Create grooves in the concrete with the notched edge of the trowel.
Spread out the remaining pavers, working from the corner created by the first two edges to the opposing corner. Level each paver with a level and a rubber mallet until the center area is complete. Install the remaining two edges with mortar the same as the first two edges.
Brush concrete sand into any gaps or spaces between pavers with a push broom. Wet the surface with a low-pressure water hose to remove excess sand and to solidify the joints.