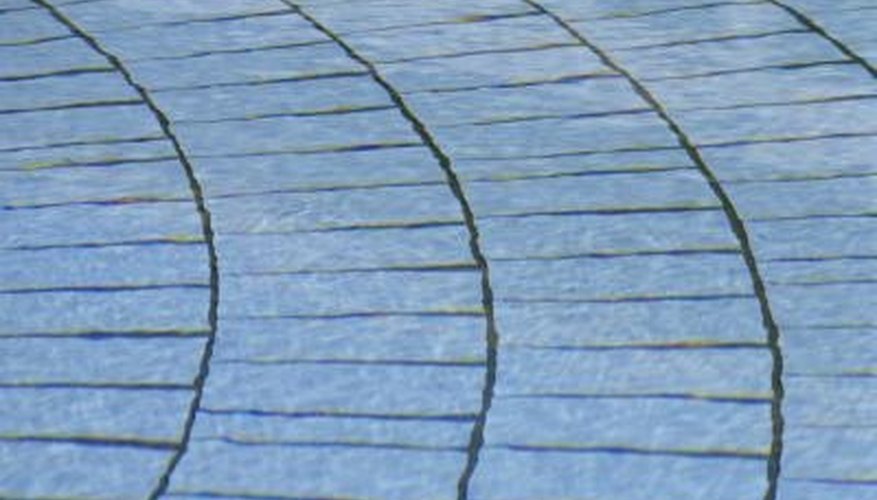 Installing patio pavers is not bound by any restrictions to patterns and layout pavers. Most installations follow square designs to accommodate the square nature of the patios. Building a circle or circular design with the pavers is not a complex matter. The pattern closely follows the layout of a daisy's petals. The edges of the pavers closest to the center touch while the outer edges are gapped slightly creating the round circle.
Dig out the area for the paver patio to a depth equal to the height of the pavers plus 3 inches.
Compact the ground with a hand tamper, a long pole with a flat, heavy base and two handles on the side, or a mechanical tamper available for rent from most hardware stores.
Pour a 1-inch layer of crushed gravel. Compact the gravel with the tamper and check the level to ensure the surface is flat and even. Repeat with a 2-inch layer of concrete sand.
Cut eight pavers with a masonry wet saw to start the inside circle. Measure and mark the center point on one narrow edge of the paver. Draw straight lines from the outer corners to the center point on the edge making a triangle. Cut the eight pavers along the marks. Cut one paver in half so that it is as tall as it is wide, making a square.
Lay out the pavers starting with the square paver in the center. Connect one full paver to each of the four sides of the square. Install two cut pavers with the points aimed at the square paver between two full pavers. Lay out the remaining cut pavers in a similar fashion around the square paver creating the basic circle. Check the level and tap the pavers flat with a rubber mallet.
Install the next row of pavers with complete pavers. Position each paver so that the corners closest to the center touch the neighboring paver and the outer edges are gapped allowing for the pavers to arc around the inner circle. Repeat until the pavers are fully installed.
Stretch a plastic border tight around the structure. Anchor the plastic border with metal ground anchors hammered through holes in the border. Pour dry cement over the structure to fill in the gaps between the pavers. Brush the dry cement into the gaps with a push broom. Rinse the surface with low pressure water to solidify the cement and to rinse off excess material.