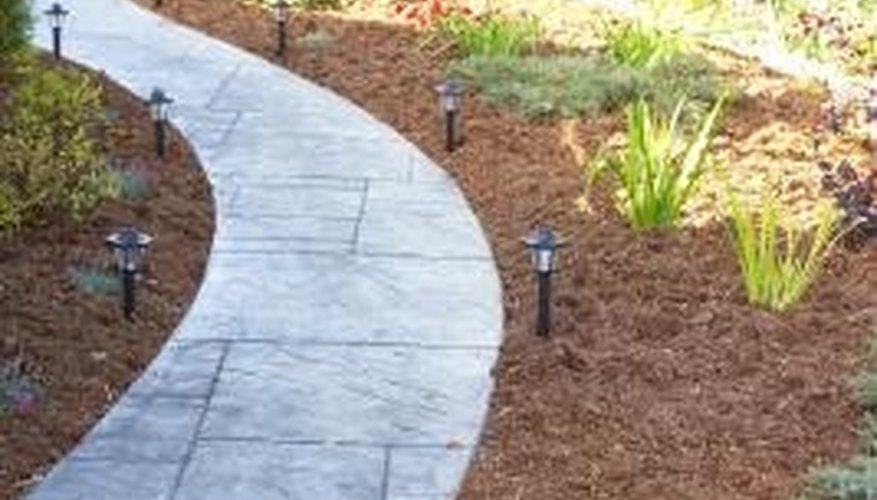 A proper base ensures a sidewalk's strength and durability. A compact, well-drained base prevents the sidewalk from cracking and shifting when subsurface water seeps through. Though laying a proper foundation is crucial, it's a project you can do yourself with basic tools and attention to detail. Use a wheelbarrow to transport heavy materials, and if you don't own a compacting machine, rent one from a home improvement store.
Use landscape paint to outline the area where you plan to lay the sidewalk. With a flat shovel, remove grass and debris from the outlined area, and continue digging down to 6 inches below the surface.
Rake the surface of the ground until it is level. Use a compactor machine or tamper tool to compress the surface. Compressing the surface prevents the ground from settling over time, which can cause a sidewalk to crack or sit uneven.
Pour 4 inches of gravel over the compacted surface, and rake the gravel to spread it evenly. Tamp the surface of the gravel until it is even. Place a carpenter's level on the base to make sure it is completely level.
Roll landscaping fabric over the surface to improve the site's drainage and prevent weeds from growing below the base.
Spread a 1-inch layer of gravel over the landscaping fabric, tucking the edges of the fabric beneath the gravel so it won't show through on the sides of the walkway.
Pour a 1-inch layer of sand over the gravel to shore up the surface. Dampen the sand and allow it to dry before laying your sidewalk. As the sand dries, it will cling to the gravel like concrete powder, increasing support to the base.