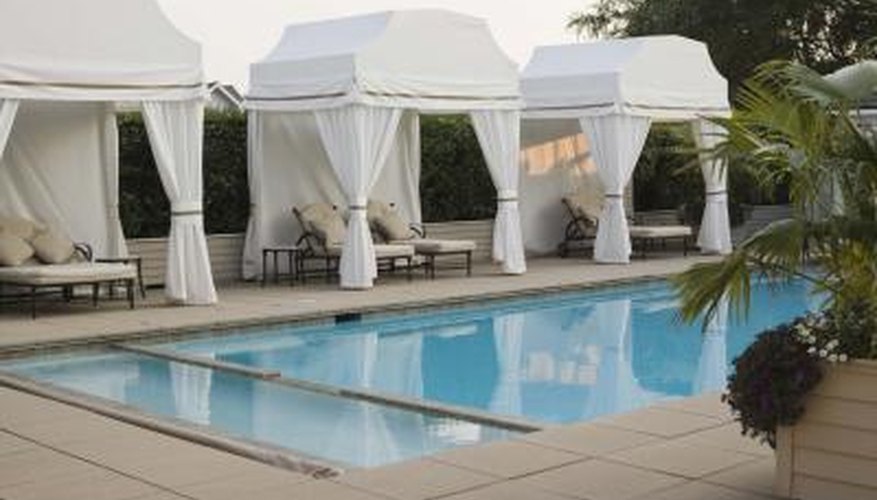 One of the most important steps in maintaining your pool is to ensure that the pH is at a safe, balanced level. The pH measures the concentration of hydrogen ion in the pool water and is scaled from zero to 14. Optimum pH levels are between 7.2 and 7.6 -- lower levels indicate your water is too acidic, while higher levels indicate the water is too basic. Balancing the pH involves adding chemicals to your pool water.
Step 1
Follow the directions in your pH test kit to test the pH level of your pool's water. Test kits are available at any pool supply store and come with a chart to help you determine your water's pH.
Step 2
Evaluate the results. If the pH level is low (7 or below) you will need to balance the pH by raising it -- this requires the use of soda ash. If the pH is high -- above 8 -- it can be balanced by adding muriatic acid.
Step 3
Turn on your swimming pool pump.
Step 4
Add the necessary chemicals according to the current pH level and the volume of your pool. Chemicals normally have detailed instructions -- if they do not, refer to the chart at deh.enr.state.nc.us/ehs/chem.htm.
Step 5
Allow the water to circulate through the pump for several minutes, effectively dispersing the chemicals through the water. Re-test, using your pH test kit as described in step 1. Repeat step 4 if the pH level is not between the optimum levels of 7.2 and 7.8.
Step 6
Test your pool's pH every other day and adjust as needed to ensure the pH remains balanced.