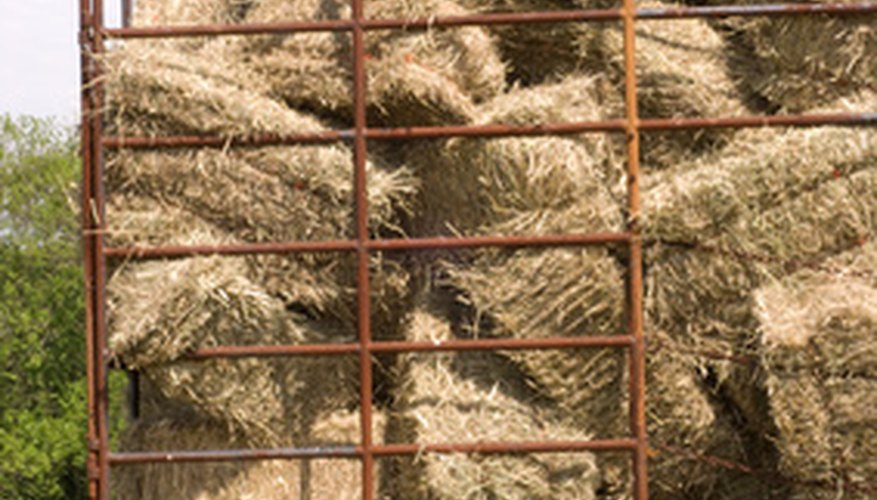 Mulch is a material spread across the top of the ground in gardens. Mulch has many functions, including preventing weeds from growing among garden plants, keeping moisture in the soil below the mulch, and insulating the soil from extremely hot or cold temperatures. You can purchase mulch in garden supply stores or make your own mulch out of materials such as grass, wood chips, leaves or rocks. Hay also makes an excellent, inexpensive and easy-to-find mulch for your garden. Hay used as mulch also offers the benefit of attracting beneficial spiders and garter snakes to your garden.
Weed your garden bed thoroughly, manually pulling out weeds and using a rake to pull out weeds rooted in the garden bed.
Place newspaper over the entire garden bed, five to 10 sheets deep.
Cover the newspapers with well-rotted manure. Once covered with the hay mulch, the manure helps feed and fertilize your garden bed.
Cover the manure with hay. Break a bale into chunks that are 4 inches thick. Place the chunks over the manure until the entire garden bed is covered in hay. Use as many bales of hay as necessary to apply a 4-inch covering of hay to the entire garden bed.
Water the garden bed thoroughly, allowing the water to soak through the hay into the manure and newspaper layer so the fertilization process begins.
Move the hay mulch aside to create openings and dig holes and add plants to your garden. Move the mulch back so that the area around the plants is covered with hay mulch.
Weed your garden to help establish your hay mulch as a weed preventive. Hay mulch is a permanent mulch, but it takes time for it to begin controlling weeds to its maximum potential. As weeds crop up in your garden after your initial mulching, simply flatten the weeds and cover them with hay mulch. This prevents the weeds from surviving and growing, and also turns them into compost beneath your hay mulch to feed your garden bed.