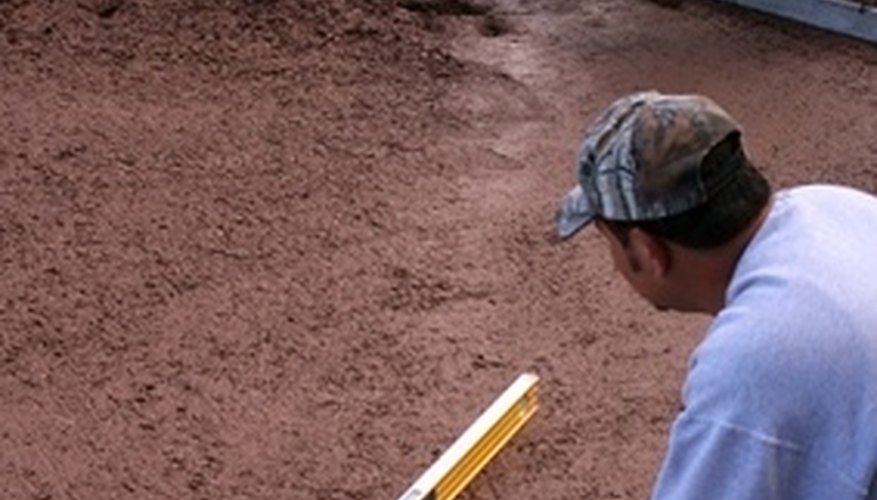 Concrete is an excellent product for many construction applications. Cured concrete has excellent compression strength and is often used for floors and foundations. Concrete floors are incredibly durable. Unfortunately, the characteristics that make concrete such a popular choice in construction applications also make it very difficult to remove. Self-leveling concrete is no exception to this rule. Removing concrete is a physically demanding process that in most cases requires the complete destruction of the concrete structure.
Put on the eye and ear protection and the dust mask. Use the concrete saw to cut the floor into sections of concrete that are small enough that they can be physically removed. The size of the sections will be dependent on the depth of the self-leveling concrete floor, with deeper floors requiring smaller sections. All cuts should be through the full depth of the concrete.
Use the sledge hammer to break free any sections that can not be freely removed from the floor. The sections may be adhered to the substrate beneath the concrete floor but since this typically would be loose gravel or crushed stone, the sections should break free after being struck with the sledge hammer. Sections along the perimeter of the concrete floor may be adhered to the walls or forms used to hold the concrete in place while it cured. Striking these sections with the sledge hammer should break them free.
Put on the gloves. Pick up and remove all of the sections of the self-leveling concrete floor.