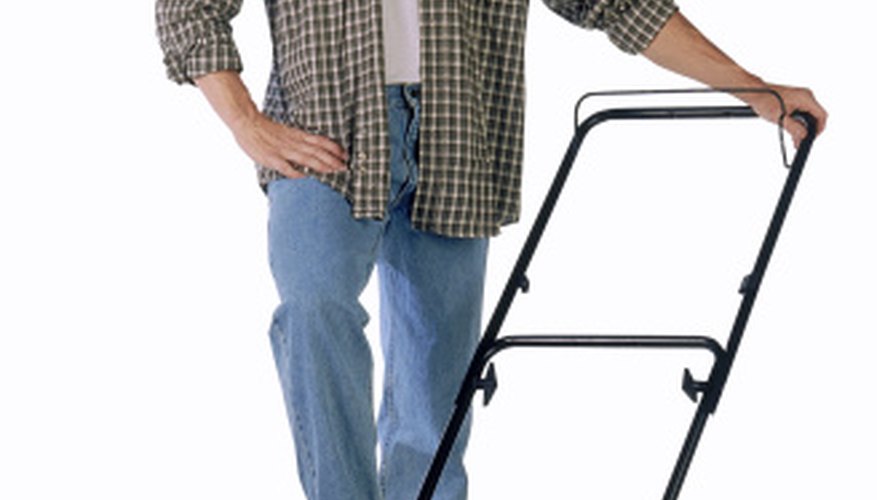 To make the small engine in a push mower run better and last longer, you need to change the oil on a regular basis. A new engine typically needs to have its oil changed after the first five hours of use. Thereafter, the oil should be changed every mowing season, or after every 50 hours of use, whichever comes first. Even if you don't know a lot about push mower engines, you can perform this task by following these steps.
Start the mower's engine and allow it to run for about five minutes. Pull the end of the wire off the spark plug. Move the end away from the plug and wrap it in a rag to keep it from touching. This will ensure that the engine can't start accidentally.
Unscrew the gas cap and remove it. Cover the fill hole with a piece of plastic wrap, then replace the cap to keep gas from spilling out.
Wipe the areas around the oil fill tube and the drain plug (located underneath the mower deck) clean. Pull the dipstick out of the filler tube.
Tilt the mower up. Lay out newspaper underneath the mower to catch any oil spills. Place an oil pan on the newspapers underneath the drain plug.
Remove the oil drain plug by turning it counterclockwise with an adjustable wrench. Set the mower down and allow the oil to drain into the pan. This will take a few minutes.
Tilt the mower up again. Check to make sure the oil is done draining. Wipe the threads of the drain plug and tube clean. Replace the plug and tighten it.
Set the mower back down. Place a funnel in the oil fill tube. Fill the mower with the correct amount of new oil. If you're not sure how much oil it takes, pour a little oil in. Wipe the dipstick off. Place it all the way inside the fill tube, then pull it out. Check how far up the oil reaches to determine how much more to add. The oil should just reach the "full" mark.
Replace the dipstick in the fill tube. Remove the plastic from the gas fill hole and replace the cap. Unwrap the spark plug wire and put the end back onto the plug.