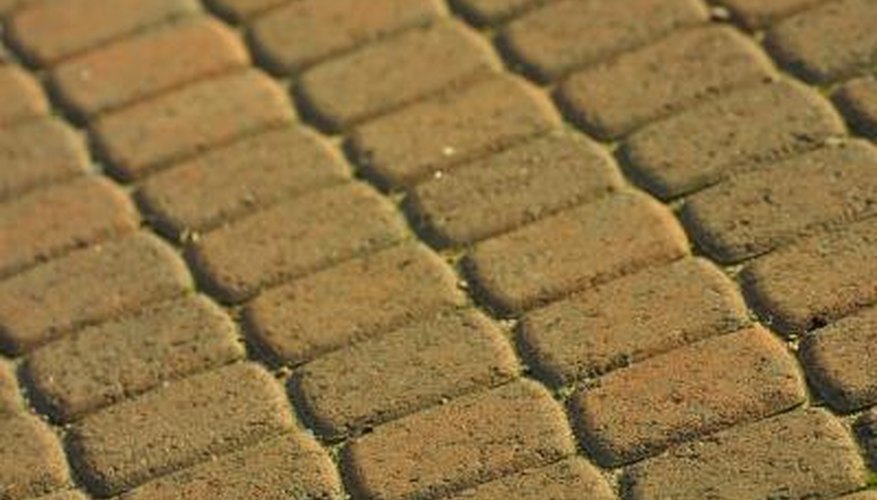 Paving a backyard reduces landscaping maintenance and provides a level surface for entertaining or growing a container garden. There are a number of durable hardscape materials available to suit the style of your home. Whether you choose bricks, pavers, stone or another material, paving the backyard is a project you can do yourself. The material you choose and scale of the project will determine the amount of manual labor involved.
Step 1
Choose the hardscape material you want to pave your backyard with. Laying bricks or pavers will provide a uniform, polished look, while stones of different sizes and shapes lend a rustic touch. Gravel is a versatile material that is easily removed or adjusted if you decide to plant a garden or install a pond in the future.
Step 2
Rope off the area you plan to pave with wooden stakes and a string. Insert the stakes in the far corners of the outline, and trace the string on the ground with flour or landscaping paint to ensure your edges are straight and even.
Step 3
Remove grass, root systems and other debris from the ground inside the wooden stakes. Continue to dig out the area until the bottom is equal to the depth of the stones or bricks you are using, plus 6 inches. Place a level on the surface to ensure your base is even.
Step 4
Use a compactor tool over the entire excavated surface to compact the soil. If you don't own one, you can rent one from a home improvement store.
Step 5
Spread a 2-inch layer of sand over the surface. Use a hoe to spread the sand evenly.
Step 6
Add a 4-inch layer of gravel over the sand, and compact the surface. The foundation of sand and gravel will improve drainage and prevent the paved surface from shifting.
Step 7
Set the first stone or brick on the foundation, beginning at an inner corner. If it is not even with the ground or slightly higher, add sand to raise the level of the surface.
Step 8
Continue to lay stones or bricks, using a level as you go to make sure the surface is even. Once the final piece is set, insert metal edging along each side to secure the stones in place.
Step 9
Brush sand over the surface, and work it into the gaps between the stones. Sweep off any excess, and moisten the surface so the sand will harden to the stones when it dries.