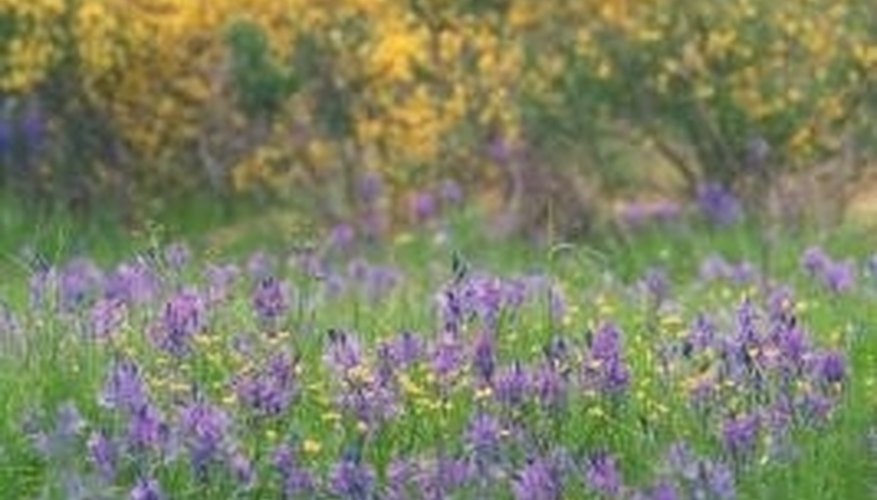 Scottish broom, also called Scotch broom, is a perennial shrub with brightly colored flowers. It grows up to 13 feet tall and is easily recognized by its deep green, woody stems and tiny leaves. Native to Europe, many areas of the United States and Canada now consider Scottish broom to be an invasive species and a noxious weed. Broom reseeds itself prolifically through large seed pods that open with almost explosive force. This makes it difficult to eradicate once it is established in an area. If kept in check, however, it makes a stunning and colorful focal point in the landscape.
Planting
Locate a well-drained place in your garden that gets full sun.
Work a small bag of loam and a 6-4-4 fertilizer into the soil.
Dig a hole large enough to accommodate your broom shrub.
Place the broom in the hole and fill the area around the roots and crown with soil. Mound the soil up in a small hill around the crown to allow for the soil settling.
Water the plant well, saturating the soil.
Maintaining Your Broom
Water your Scottish broom sparingly. A good rule of thumb is to water when the soil is just dry.
Add a 6-4-4 fertilizer to keep the soil's pH between 5.5 and 7.
Prune the plant back after it flowers, usually in late spring to early summer.
Remove seed pods before they mature to prevent spread and naturalization into the surrounding landscape.
Pull any unwanted seedlings as soon as they sprout as mature plants are difficult to eradicate.