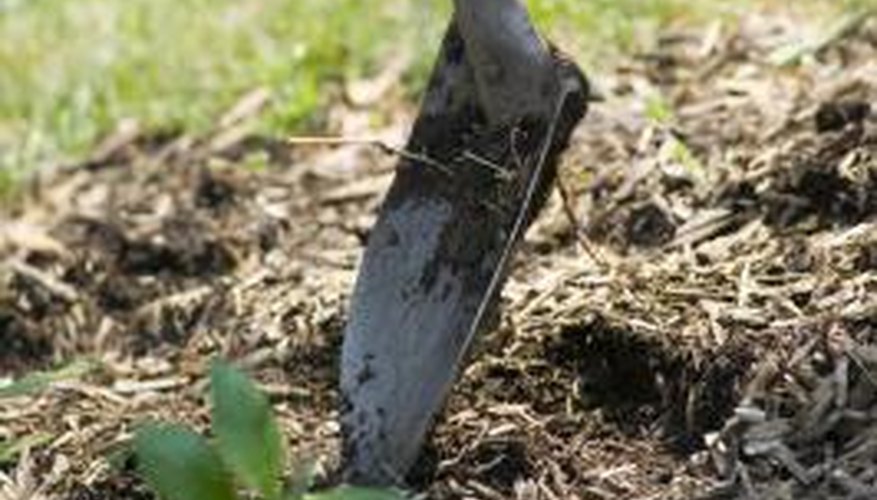 Compost is rich in organic matter and contains abundant microorganisms that make for rich, nutritious garden soil. Good soil is the first step to growing healthy landscape plants, flowers and edibles. A compost pile may contain anything from vegetable kitchen scraps to plant materials taken from the garden. Once the composting process is complete, the rich medium is ready to be mixed into the soil in vegetable beds, flower gardens and planters.
Step 1
Clear all weed roots, dead plant material and weeds from vegetable gardens and annual flowerbeds in late winter or early spring. Turn over the top 10 inches of soil using a garden fork or a rototiller.
Step 2
Spread a 4-inch thick layer of seasoned, well-rotted compost over the prepared garden bed. Turn the compost into the top 10 inches of the soil using the garden fork or till it with the rototiller.
Step 3
Mix compost with potting soil at a ratio of one part compost to three parts potting medium for container grown plants. Avoid using compost to start seeds, as it contains microorganisms that can damage the seed and prevent germination.
Step 4
Spread a 4- to 6-inch layer over new lawn sites before seeding or laying out turf. Till the compost into the top 8 inches of the soil to get lawns off to a good start.
Step 5
Mix compost with the soil before planting landscape trees and shrubs. Mix the soil removed from the hole with compost for a mixture of one part compost and two parts soil. Back fill the hole around the roots with the compost mixed with soil.