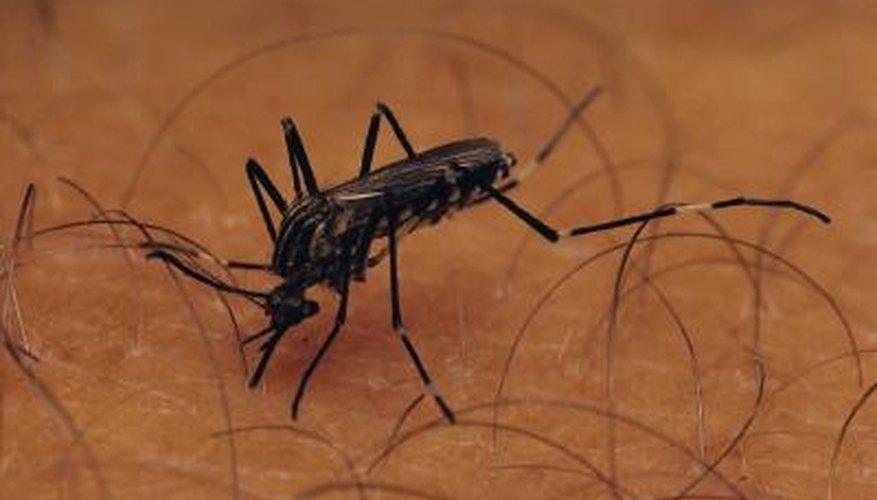 Aside from being annoying, mosquitoes also transmit many diseases, such as malaria and West Nile virus. One of the main attractions to a mosquito is water. Mosquitoes lay their legs in stagnant water, and they congregate in large numbers in damp areas. Swimming pools can be a major magnet to large numbers of mosquitoes, especially if the pool is not properly chlorinated. Several methods will repel the nasty little blood suckers from your pool, and allow you to enjoy the summer months.
Properly chlorinate your pool. If you fail to keep your chlorine level where it needs to be, mosquitoes may actually begin to lay eggs in the pool water. At the proper levels, chlorine will repel mosquitoes from the water and kill any eggs laid in it.
Keep the swimming pool cover clean. Water can pool on top of the cover, especially during periods of heavy rain or when you are not using the pool much. Mosquitoes will lay eggs in the water on top of the cover because it is not chlorinated. Pull the cover off the pool and drain the water off of it whenever puddle start forming.
Place plants that repel mosquitoes around the pool. Several species of plants are natural mosquito repellents that you can use to drive away the insects. Some of these plants include marigolds, rosemary, catnip, and citronella grass. Plant some of these in the soil around the perimeter of the pool area. If your pool is surrounded by concrete, place the plants in the area in plastic pots. However, keep the plants away from the chlorinated water, especially in areas that hold water when you drain the pool.
Install a bug zapper near the swimming pool. Bug zappers emit a fluorescent light that attracts many types of insects, including mosquitoes. Some of the zappers also include a special bait that specifically attracts mosquitoes. The mosquitoes will hover toward the zapper then are incinerated once they touch the light coils. Do not let the electrical cords that power the bug zapper come close to the water or get wet from splashing.