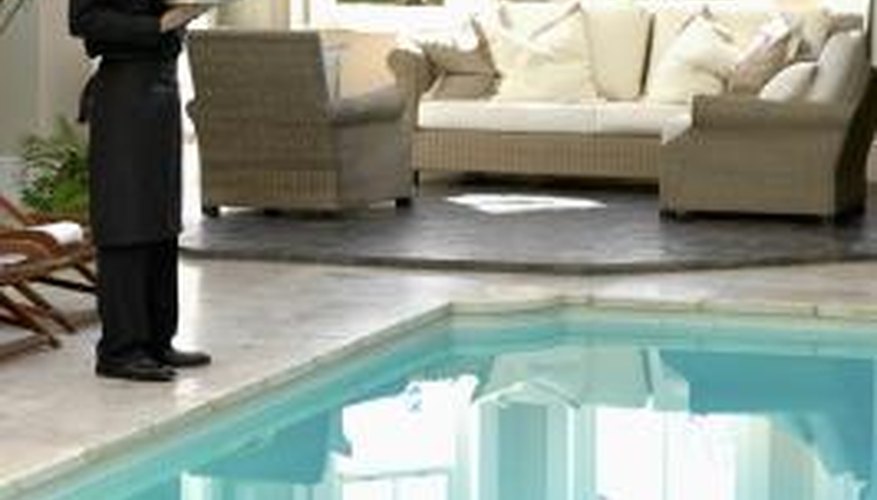 The Dolphin pool vacuum is designed to scrub pool bottoms and surfaces, including the walls and water line, removing dirt, debris and particles from the water. The Dolphin uses a scanning program to sense portions of the pool already cleaned and areas that still need to be scrubbed and operates via a wireless remote control. The unit has several cleaning programs and comes with a limited warranty. However, if problems arise with the vacuum, you may find troubleshooting efforts useful, such as if the vacuum stops working.
Step 1
Unplug the power cord and turn the Dolphin "Off." If submerged in the pool, remove the Dolphin vacuum from the pool and allow to dry completely prior to maintenance.
Step 2
Find the circuit breaker box, typically located on the side of the house or garage, and open the cover. It may be necessary to reset the circuit breaker connected to the power supply where the Dolphin is plugged in if there has been a disruption in power. Look for a flipped switch in the circuit breaker box that is in the "Off" position or sitting between "On" and "Off." Push the switch to "Off" and then to "On." Alternatively, if the power outlet has a ground fault circuit interrupt (GFCI), there will be a "Test" and a "Reset" button on the outlet faceplate. Press the "Reset" button to restore power to the outlet.
Step 3
Open the battery cover and remove the old batteries from the unit. Install two 1.5-volt AAA batteries into the battery compartment. Push firmly on the batteries until they click into position. Close the battery compartment.
Step 4
Inspect the power cord to see if it's wet or has been submerged in water. If it has, you may need to replace the power cord.
Step 5
Restore power and turn the power switch "On."
Step 6
Contact an authorized service center for assistance if the above steps do not fix the problem.