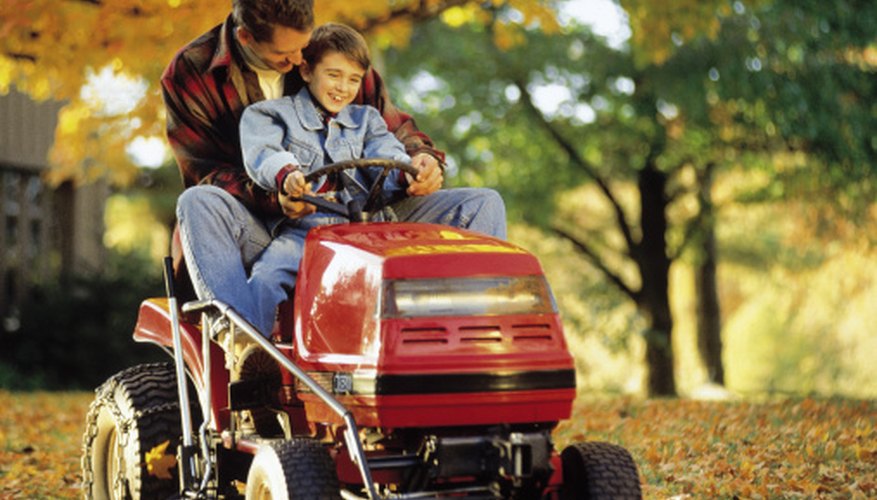 Riding lawn mowers provide a convenient means of cutting large areas of grass. They also provide a means of cutting grass for those who are not able to push or walk behind a mower. Marketed by a range of manufacturers, riding lawn mowers can experience operating problems from time to time. By following a few troubleshooting steps, you can identify and correct issues that prevent a riding mower from starting.
Disengage the mower blade, set the throttle to the start position, move the transmission to neutral and depress the brake. Follow normal starting procedures to attempt to start the riding mower.
Remove the cap from the fuel tank. Add recently purchased unleaded gasoline to the tank. Avoid using older gas that has been stored for a prolonged period of time as gasoline can break down and form a clogging varnish.
Raise the seat of the riding mower and locate the cut off pressure switch. Check the wiring leading to the switch and crimp any loose wiring connections with a pair of pliers.
Remove the spark plug with a spark plug wrench. Pull the wire boot from the tip of the spark plug. Place the wrench over the spark plug and turn it to the left to loosen and remove. Replace the spark plug with a suitable replacement and tighten it into place. Connect the wire to the spark plug tip.
Remove the cover from the air filter housing. Pull the filter from the housing. Wash a foam filter with soap and water, rinse thoroughly and allow it to dry. Replace a paper filter with a suitable replacement. Install the paper or washed foam filter into the housing and snap the cover securely in place.