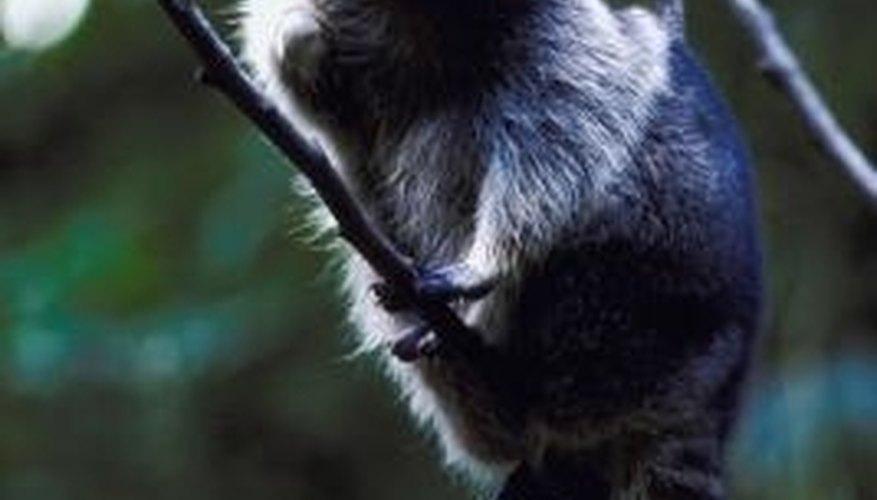 Raccoons are wily, crafty creatures with an opportunistic habit. They will inhabit any area that provides shelter and food. It is common to find raccoons wherever you find humans. They find human refuse easy pickings and there is an abundance of food where people congregate and live. Park garbage cans, dumpsters and your vegetable garden are popular hangouts. If raccoons are on your property, or even in your home, you can contact a wildlife removal service or you can repulse them yourself for a fraction of the cost. First you need to remove whatever has attracted them, lure them outside and then seal your house to prevent these masked mammals from entering anew.
Remove any pet food or open food sources in your house if it is safe to do so. The animals need food and water to live inside, so remove these items to encourage them to move outside. If you know where they entered, bait the opening with wet or dry pet food and water. This may entice them to leave the home.
Use a flashlight to go over the exterior of the home and find any openings that the coons could use to gain entry. You may have to go under the house too. When the coons have left, go over all walls, attic and basement areas for additional information on where the openings are.
Use metal screening over vents and air ducts, where penetration may have occurred. Tack the screening down so their clever little paws can't remove it. Cut pieces of wood and nail them onto larger openings and gaps under the house. Pre-made lattice pieces are good for blocking the entry under decks and crawl spaces and they look attractive. Chicken wire is also a good deterrent when used as a barrier fence around larger entry places.
Place screening or chicken wire over your chimney after nightfall. This is called exclusion and needs to be carried out after the animals have left to forage. The screen will prevent their return if they were nesting in your chimney.
Clean up the area the raccoons inhabited. Put gloves and a dust mask on to prevent inhaling fecal matter and dirt as you clean. Sweep and vacuum to remove all their debris. Spray a disinfecting spray on any urine spots or nesting areas after debris has been removed.
Make a deterrent solution to repel the raccoons if they might be back. Near any entry that you couldn't seal, place a bowl of ammonia with a soaked rag at the opening. The ammonia smell repels the animals. Refresh the ammonia once a week.