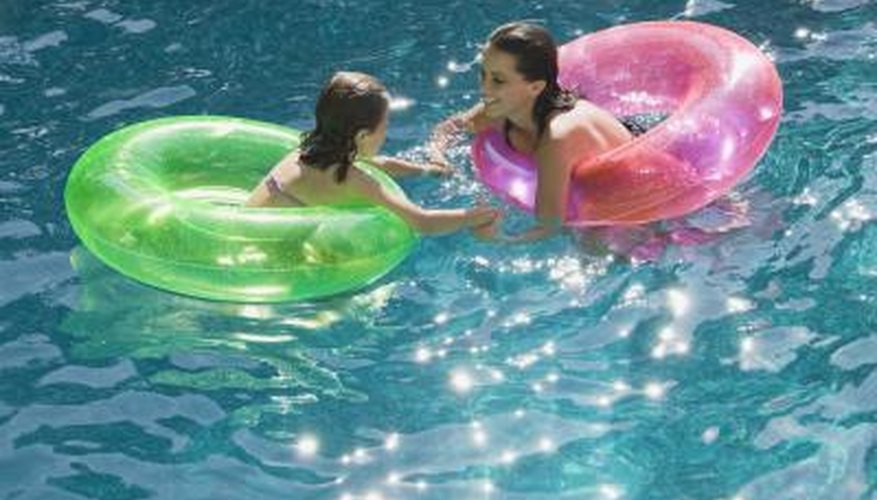 A clean swimming pool is vital to keeping swimmers safe during the summer, as the buildup of algae, bacteria and debris can create health hazards in the water. Brown algae spots in a swimming pool are a common sign of a pool with problems, whether they stem from infrequent cleaning or the lack of a filtration system. Cleaning algae out of a swimming pool is important for ensuring the water is safe and healthy.
Step 1
Check the pool's filter system. A clogged filter or a filter not run consistently can allow algae to build up in a swimming pool. Make sure the filter system is turned on so the water circulates and is passed through the filter.
Step 2
Empty or unclog the drain trap of the filter. A buildup of debris like leaves and dead insects provides a place for algae and bacteria to grow and feed on. This buildup can stop the filter system from cleaning the pool properly.
Step 3
Run a pool vacuum cleaner once a week to suction brown algae spots off the bottom and sides of the swimming pool. Pool vacuums help to keep the water and interior of the pool clean.
Step 4
Add a chlorine shock to the pool to help clean the water and kill any existing algae. Follow all directions on the shock to add the right amount to your pool. Different sized pools need different amounts of chlorine.
Step 5
Create a weekly cleaning schedule for the swimming pool to treat any existing brown algae spots and keep them from returning. Vacuum the pool once a week and add chlorine or shock as needed to keep the water clean.