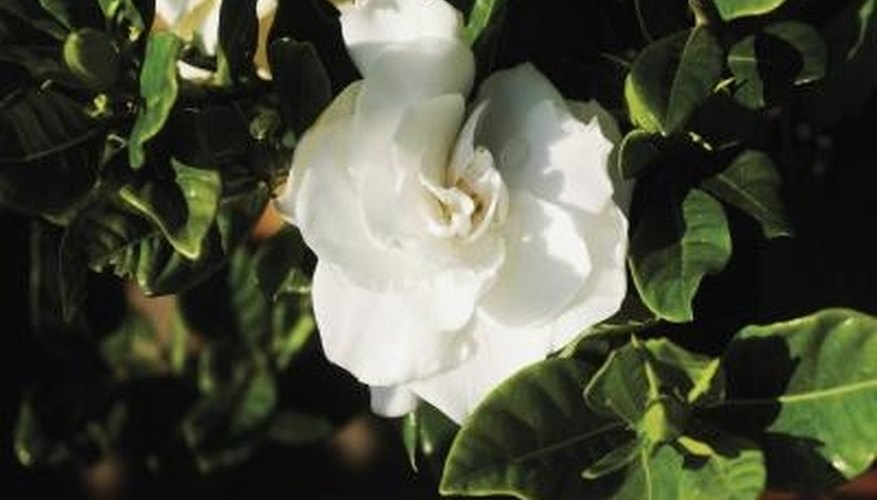 Gardenias are elegant, fragrant white flowers with evergreen, dark-green leaves. Blooming from the spring until summer, they can grow up to 8 feet tall. Gardenias add curb appeal to a front yard or backyard flower garden. Gardenias grow well in full sun to partial shade with well-drained, acidic soil. Plant in the spring after the danger of the last frost or in the early fall before the first frost.
Conduct a soil test in the chosen area to verify that the pH level is between 5.0 to 6.0. Lower the pH level if necessary with sulfur, using the recommended amount from the results of the soil test.
Dig a hole twice as wide as the container and the same depth or height as the container. Mix the removed soil with a lb. of organic matter.
Remove the gardenia from the nursery container by pulling the container off the plant. Avoid pulling the stem from the container.
Place the root ball into the hole. Backfill halfway and then water to eliminate the air pockets. Finish backfilling once the water drains. Water well. Water 1 inch a week during the growing season if rainfall is absent.
Spread 2 to 4 inches of organic mulch such as pine bark around the gardenia bush to retain moisture and suppress weeds from growing.
Apply an acidifying fertilizer or fish emulsion once a month during the growing season. Follow the instructions on the label for correct usage.
Remove dead or diseased foliage as necessary to ward off pests. Deadhead flowers to persuade more blooms.