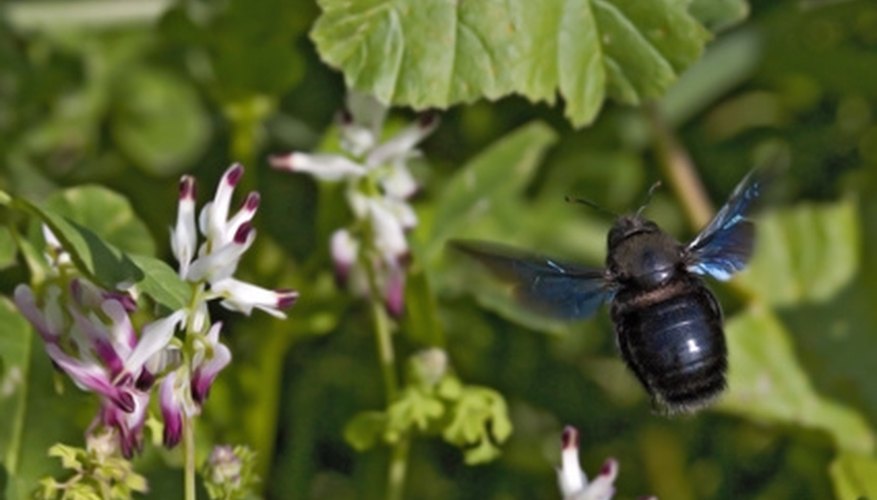 The round black bees that fly around your home and landscape are called carpenter bees because they bore holes, about 1/2 inch in diameter, into the wood siding of homes, sheds and other buildings. Carpenter bees will not sting you, unless the bee feels threatened, but they can be bothersome and make unattractive damage to your wood siding. Although it may take a few weeks, killing your carpenter bees is not difficult. Kill the bees in the spring and early summer, when the black bees are most active, and then seal the holes in the fall.
Use wasp and hornet spray to thoroughly spray into the carpenter bee hole. Repeat this every three to four weeks in the early spring. The wasp and hornet spray can also be sprayed directly on the bees if they are away from their hole.
Insert several tablespoons of pesticide powder or dust into the carpenter bee holes. The powder will collect on the bees when they enter and be carried to the nest, killing the bees. Repeat inserting the dust every two weeks. The earlier in the season you can kill the black bees, the better, because if the bees are dead, they can not bring food to the eggs, thus the eggs, or young bees, will also die.
Plug the carpenter bee holes with caulking, putty or corks in the fall, after the bees have been killed. Carpenter bees have a tendency to return to the same hole year after year. If there are any bees you did not kill, plugging the hole will deter them from returning.