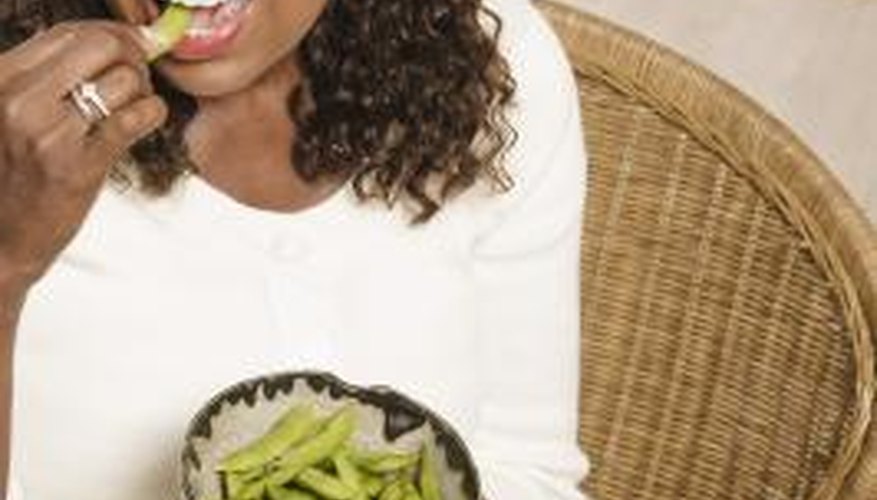 Soybeans are a legume related to peas and clovers. Legumes take nitrogen from the atmosphere and convert it to a form of nitrogen they can use for growth energy. The process of nitrogen formation is not done by the plant alone. Rhizobium bacteria that live in nodules located along the roots of the plant consume nitrogen from the air and soil and create ammonia. Ammonia is a form of nitrogen used by the plants. Bradyrhizobia japonicum, a strain of Rhizobeum bacteria available in liquid or powdered form, can be added to soybean seed before planting in a process called inoculation.
Step 1
Store the Bradyrhizobia japonicum bacteria in the refrigerator. Ensure it does not have contact with warm temperatures or sunlight. Do not freeze the bacteria during storage.
Step 2
Prepare to apply the bacteria to the soybean seed no more than 24 hours before the seed is planted.
Step 3
Place the soybean seed in a bucket or other clean container.
Step 4
Pour the required amount of bacteria over the seed and mix the seed and bacteria mixture until the seed is completely coated with the bacteria. Keep the inoculated seed out of direct sunlight before planting. Once the bacteria is applied to the seed and exposed to outside conditions it begins to die. Plant the seed as soon as possible after it is inoculated with the bacteria.