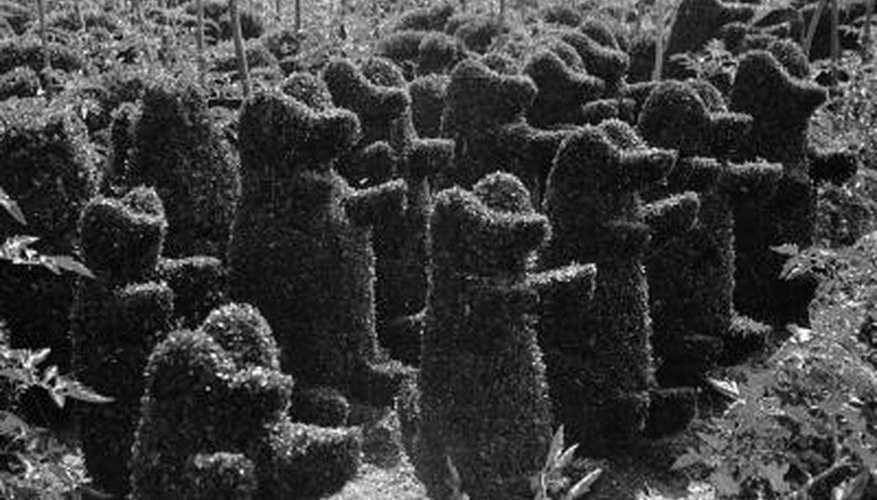 Topiaries can be engaging garden projects for people of all ages. Animal forms are among the most popular topiary frames, and you can stuff and cover them with moss. Making animal topiaries isn't as difficult as it seems, especially if you're using only moss and not including ivy or other types of trailing plants. You can purchase different animal-shaped wire topiary frames at most garden centers or home improvement stores.
Place the sphagnum moss in a container or sink filled with clean water. Soak the sphagnum moss in water until it's thoroughly saturated.
Pack the wire animal topiary frame with handfuls of the wet sphagnum moss, beginning with the legs and tail. Continue to pack the entire frame with the moss until it's completely filled and packed tightly. You shouldn't be able to see most of the animal topiary frame when you're finished packing it with the sphagnum moss.
Wrap each section of the wire animal frame with microfilament or nylon fishing line. Tie one end of the line or microfilament to one end of the topiary frame, and then wrap the line tightly and evenly around all sections of the frame.
Space the line as you're wrapping it so you can easily cover the line and it won't be visible later. When you're finished wrapping the frame sections, cut the line or microfilament and tie off the end to part of the animal topiary frame.
Cover the topiary frame with pieces of moist sphagnum moss, covering any areas where the frame, microfilament or nylon line shows. Use florist pins or hair pins to help affix the moss in place on the topiary frame.