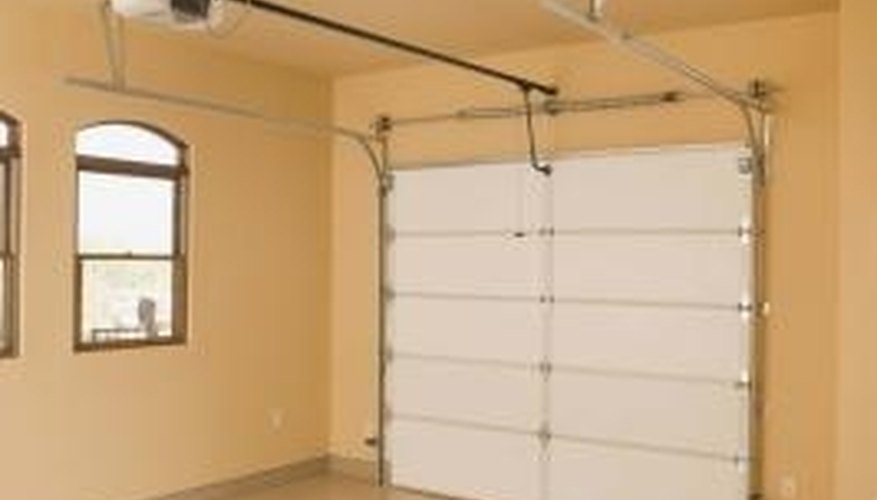 Epoxy is a two-part polymer used as an adhesive or as a nonporous coating. Rust-Oleum epoxy garage floor finish is an epoxy that offers a surface coating that protects the floor from common stains caused by gasoline, oil, antifreeze, road salt and tire marks. The application of Rust-Oleum epoxy garage floor coating begins with a thorough cleaning and etching of the concrete surface. These procedures ensure a properly prepared floor for the epoxy application.
Remove the baseboards from the perimeter garage walls, if applicable, using a hammer and pry bar. Set the baseboards aside for reinstallation later.
Sweep the concrete surface to remove all the loose dirt, sawdust or other debris using a stiff-bristle broom.
Vacuum the floor surface to clean any dirt or debris from the floor using a shop vac or a household vacuum. Be sure to vacuum any open cracks in the floor surface to remove dirt for patching.
Prepare a quantity of concrete patching mix following the manufacturer's directions to repair any cracks or fissures in the concrete floor, if applicable. Use a putty knife to apply the patching mixture, then allow it to cure fully before proceeding to the next step.
Prepare a solution of TSP cleaner according to the manufacturer's specification. Apply the TSP cleaner to the entire floor surface and scrub the floor using a floor scrub brush to remove oil, grease and similar surface stains from the concrete surface. Rinse the floor using a garden hose and sprayer nozzle. Allow the floor surface to dry thoroughly before proceeding.
Mix a solution of muriatic acid and clean water in a plastic bucket following the manufacturer's specifications. Spread the acid solution over the floor area and allow it to saturate the concrete for approximately 15 minutes, then flush the floor with clean water using a hose and sprayer nozzle. The muriatic acid interacts with the alkalinity of the cement to lightly roughen, or "etch," the surface to increase the adhesion of the epoxy material to the surface.
Allow the entire garage floor surface to dry completely before proceeding with the application of the Rust-Oleum epoxy coating.
Things You Will Need
Hammer (optional)

Pry bar (optional)

Stiff-bristle broom

Vacuum

Concrete patching mix (optional)

Putty knife

Garden hose with sprayer nozzle

Plastic bucket

Floor scrub brush with handle

Trisodium phosphate (TSP) concrete cleaner & degreaser

Muriatic acid

Safety glasses

Rubber gloves
Warning
Muriatic acid is very effective in dissolving surface contaminants such as oil, grease, paint or glue. It is also a highly corrosive liquid that you should used only with extreme caution. Even when diluted with water for concrete cleaning and etching purposes, there is a burn risk in exposure to skin or eyes. Follow all labeled precautions, including wearing rubber gloves and safety glasses during its use.