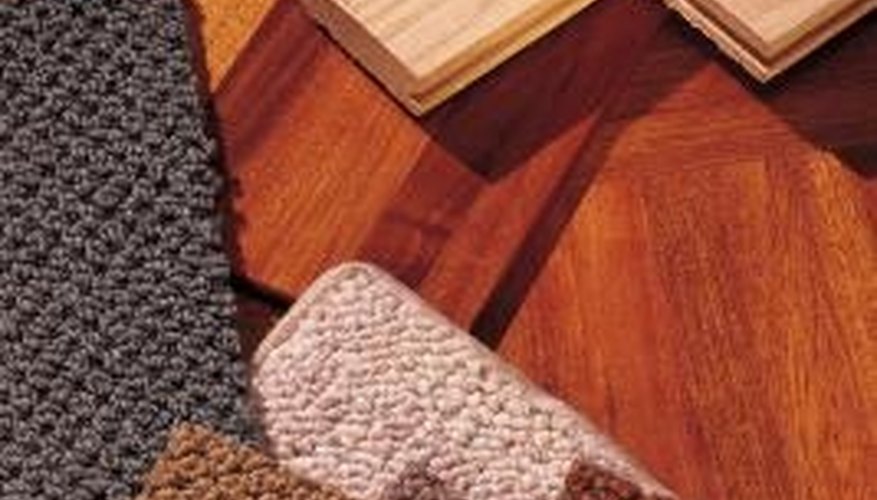 Without proper transition pieces, flooring can look blocky and amateurish. In order to achieve a professional look to an installation of carpet, a transition to concrete flooring must be seamless. When it comes to this type of transition, however, it is best to opt for a piece of reducer trim for the area separating the carpet and concrete, to finish one type of flooring as it transitions to the other, offering the most enhanced visual effect. Thankfully, this is a simple project, completed in as little as half an hour.
Measure the area of the flooring you intend to transition. Cut the reducer trim to the measurements with a handsaw or circular saw. Allow a gap approximately one half inch between the carpet end and concrete flooring for the trim piece. Your goal is to cover the tack board for the carpet with the reducer trim. Place the trim over the area to ensure adequate coverage and check measurements. Make cuts or adjustments as needed.
Snap the piece of trim in place between the two types of flooring with the nose of the reducer trim flush with the concrete floor. This will take the higher carpet floor down to the level of the concrete subfloor. Begin attaching the trim piece to the subfloor, screwing it on each end. Check the position and to make sure that the piece is straight and flush. Use a straight edge if needed. If installing in a doorway, cut out notches at the trim butting up against the door frame until it is flush. Use a hand saw to create notches.
Screw the reducer trim into the subfloor with remaining screws every 8 to 12 inches going from one end of the piece to the other. Once the piece is firmly in place, fill the screw holes with wood putty, and allow the putty to dry. Once the putty is dry, sand the piece flat and paint or stain the reducer trim with the color of your choosing.