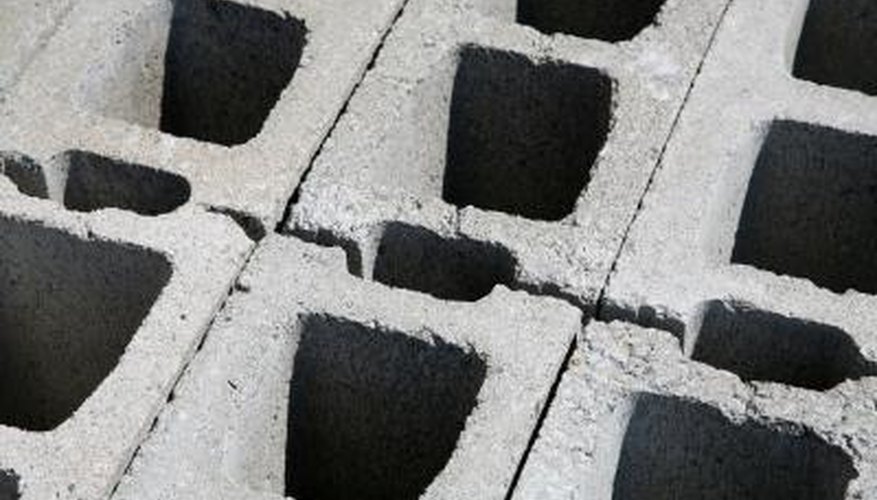 Concrete blocks come in two general forms, both used to build a wide variety of walls. Cinder blocks are a common type of concrete block, and while they come in a variety of sizes, all cinder blocks come with hollow interior spaces. Other concrete blocks are solid, and these blocks are often meant to resemble stone blocks. In most cases, building walls with concrete blocks means working with mortar, and the procedure for laying that mortar varies with the type of block.
Step 1
Spread a 3/8-inch layer of mortar with a trowel into the bed where you intend to lay the concrete blocks. In the case of solid concrete blocks, lay a continuous layer, as you might for laying brick. If you are working with cinder blocks, lay two beads along the outside of the bed, corresponding to the outside edges of the cinder blocks.
Step 2
Butter your first block. Solid blocks receive a solid, 3/8-inch thick sheet of mortar on both ends of the block. For a cinder block, grasp the block by the pylon in the middle and sculpt two lines of mortar onto both sides of one end of the block.
Step 3
Set the block into the bed, placing one end flush with the adjoining wall or block so the mortar has a firm, solid grip. Then tap the top and the un-mortared side of the block with your trowel, to help the block settle.
Step 4
Continue laying block until you have reached the end of the row. Every two or three blocks, stop and check your work with a level to ensure you have mortared the block on a straight and even course.