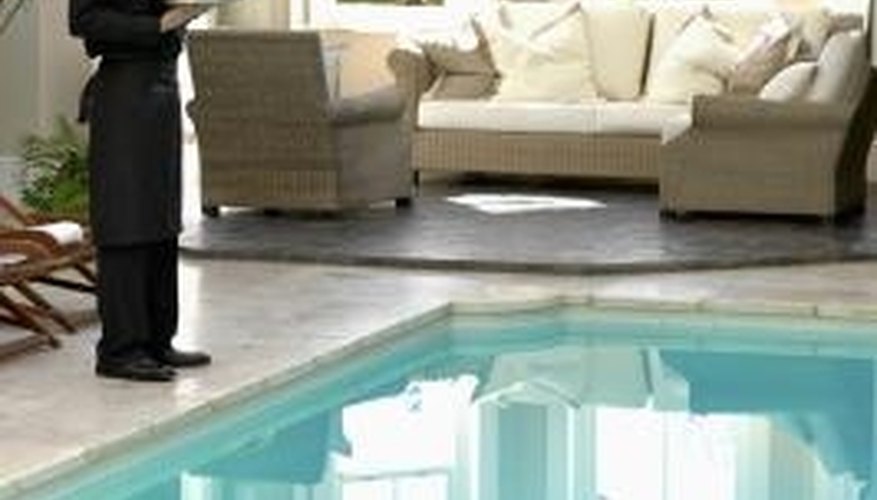 Keeping the chemicals in a pool well balanced is important to pool water quality and swimmers' comfort. One measure that is essential is the level of alkalinity in the pool water. Alkalinity affects the water's pH level; when the alkalinity is too high the pH is raised. High pH will cause swimmers to experience skin and eye irritation. One method that is used to lower the alkalinity in pool water is to add soda ash to the water.
Test the level of alkalinity of the water using a pool chemistry test kit. Fill the large compartment of the test vial to the 25ml mark with water from the pool -- ensure the water is taken from 2 feet below the surface. Add two drops of the No. 7 reagent and five drops of the No. 8 reagent. Add the No. 9 reagent one drop at a time, swirling the container between drops. Count the number of drops it takes until the water turns from green to red.
Multiply by 10 the number of drops it took to turn the water from green to red. The result is the total alkalinity of the water. The recommended range for alkalinity is between 80 parts per million and 120 parts per million.
Add approximately 1.5 ounces of soda ash per 1,000 gallons of water to raise total alkalinity 10 parts per million. Consider a 5,000 gallon swimming pool that registers a total alkalinity of 60 parts per million: To bring the alkalinity within acceptable range you would need to add 15 ounces of soda ash. That is 1.5 (ounces of soda ash) times 2 (alkalinity should increase by 20 parts per million) times 5 (thousands of gallons), which equals 15 ounces.
Test the alkalinity in the pool again in two to three hours and add more soda ash if necessary.