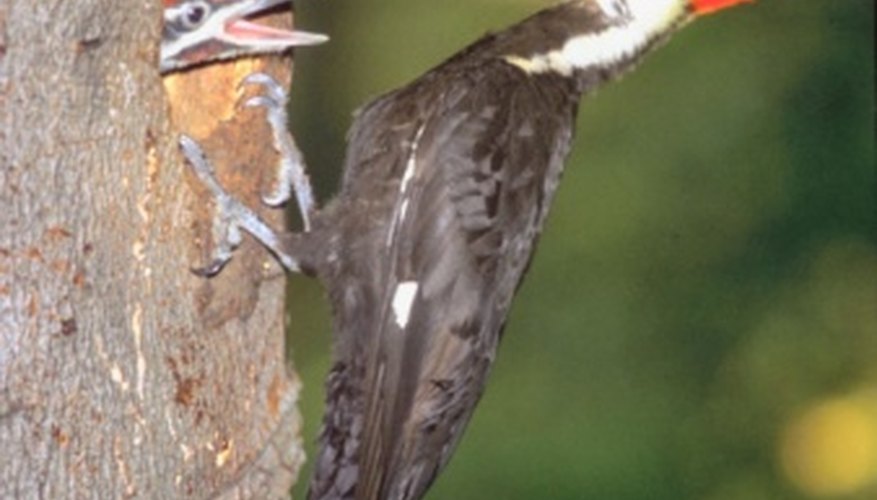 Woodpeckers drill into wood with their pointy beaks in search of small insects to eat or feed their young. Unfortunately, some woodpeckers will even search for food in the siding of your home. Woodpeckers are protected from harm by the Migratory Bird Treaty Act of 1918. You won't be able to kill the woodpeckers damaging your home, but you can deter them so that they forage somewhere else.
Cut out several strips of aluminum foil. Each should measure 4 inches wide by 4 feet long. Attach these to the area of siding where the woodpeckers have been seen. The shiny aluminum scares woodpeckers and will deter them.
Affix a plastic bird of prey near the area the woodpecker has been visiting. Owls, falcons, and hawks will all scare a woodpecker away from the area. You may want to change the plastic bird out each week so the woodpeckers don't get used to seeing the same object.
Set up a motion detector near the siding. When the sensor on the motion detector detects movement from a woodpecker, it will let out a loud noise. This will scare the woodpecker away.
Add a few bird feeders to your landscape. This will give the woodpeckers a place to find food so that they don't go looking for it in the siding of your house.
Spread thiram across your wood siding. This chemical is often used as an animal repellent because animals, including birds, hate the taste of it. The woodpecker will go to peck your wood, taste the thiram and leave without doing any further damage.