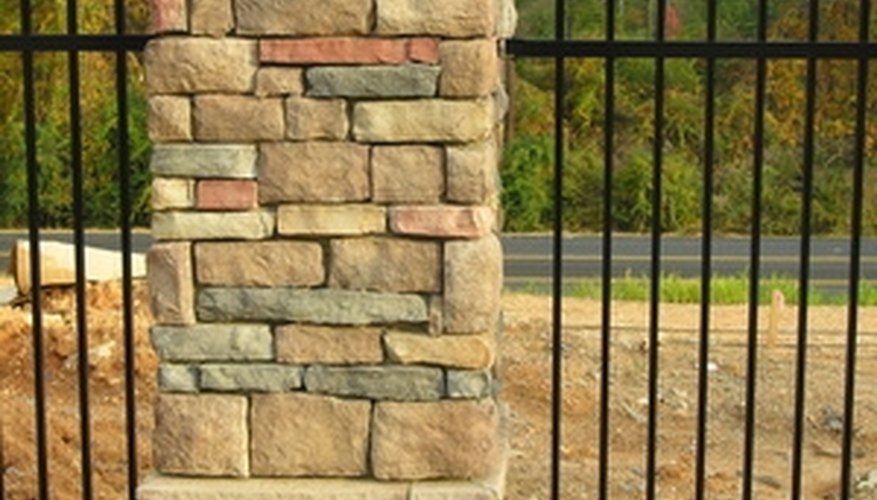 A simple way to revitalize your outdoor space is to cover your exterior columns with a brand new finish. You can completely change the look of your front- or backyard with column covers constructed of any material you desire. You can alter these pillars to create an urban oasis or an ancient forum depending on the materials. There are column covers available in metal, wood and stone finishes that will complement any outdoor decor. These are simply applied over the top of your existing columns like a layer of stone over your plain square stone pillars, eliminating the need for construction, .
Rinse the column you will be covering with a water hose to ensure it does not have any dirt or debris on it. If there is encrusted dirt, use a mild detergent to clean it thoroughly, including the base surrounding the column. The stone may hold the dirt, so scrub it well to ensure the mortar will adhere when necessary.
Mix the mortar according to the package instructions using the pail, water and the trowel. When you achieve the desired consistency, a thick butter-like mix, it is ready to use.
Lather the first brick with mortar and put it in place at the base of the column. Stagger the bricks to achieve a realistic look. Continue building up the bricks around the stone pillar. Remember to adhere the brick cover to the column by lathering mortar onto the back of each brick as well. This will enhance the strength and durability of the column cover over time.
Lather the remaining mortar over the top of the original column and the top of the new column cover which will be a large flat surface. Apply an even layer by smoothing it out with the trowel. Lay the flat stone slab down over the top; this will serve as the capital for your new column.
Wait for the mortar to set. This will take at least 24 hours to a couple of days. Cover it in plastic if there is any precipitation, otherwise leave it to dry in the open air.
Things You Will Need
Stone bricks

Mortar

Mixing pail

Trowel

Flat stone slab
Tip
This method is ideal for square or rectangular columns. If your columns are cylindrical, consider purchasing a pre-made column cover. These can be installed by a professional team in your area.
Warning
If the columns you are covering are structural, ensure that whatever modification you do does not compromise the integrity of your home or outdoor space.