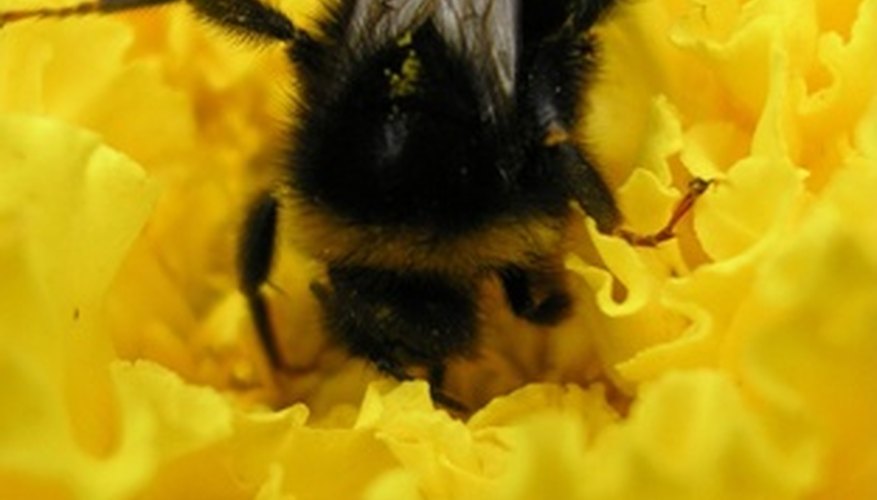 Types of ground-inhabiting bees in Connecticut include bumblebees, mining bees, yellow jackets and cicada killers. Mining bees pose little to no threat to humans and are a great benefit to the environment around your home, as they are productive pollinators. Bumblebees — while still productive pollinators — yellow jackets and cicada killers pose more of a threat, as they can produce a painful sting. It is difficult to kill mining bees and some other ground-inhabiting bees, and many experts, including those at the University of Rhode Island Landscape Horticulture Program, advise against using insecticides on them.
Step 1
Find the entrance to the nest. It is safest to view the colony from a distance and see where the bees are entering the ground.
Step 2
Squirt a couple of ounces of dish soap into a bucket of water and pour the mixture into the entrance during the nighttime in or after June, when queens have established their colonies. To be safest, wait until it's less than 50 degrees Fahrenheit, as wasps have a hard time flying in these temperatures. The majority of the colony dies off in fall, too, so if you've found the nest close to autumn, it may be best just to wait and let the bees expire naturally.
Step 3
Apply carbaryl dust or liquid concentrate, chlorpyrifos dust, acephate liquid concentrate or diazinon liquid concentrate to the entrance of the nest if the soap mixture doesn't work. Dusts are often better, as the liquid may soak into the ground and not reach the nest. Dust might flow to cover the entire nest, while entering and exiting wasps and bees may carry the dust on their legs to the rest of the nest.