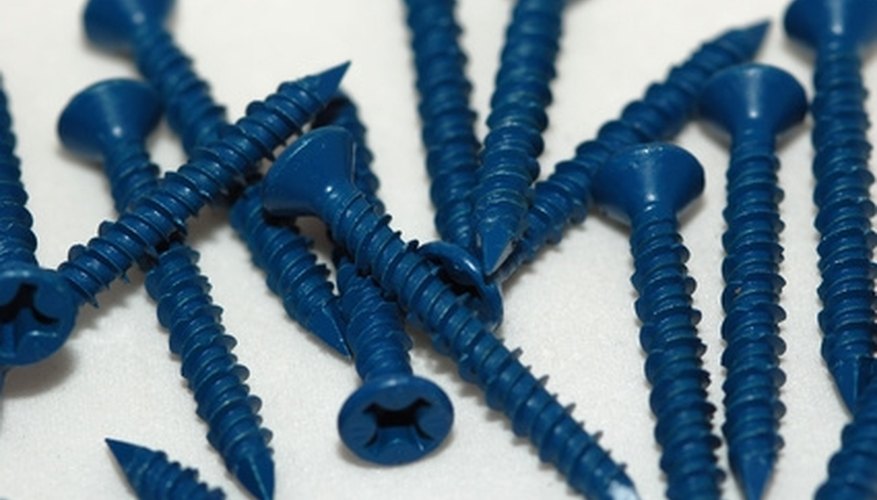 There are many types of concrete anchors to use in construction and for general use. The most common anchors are driven in with a hammer, screwed in with a drill or tightened with a wrench. Though often interchangeable, some anchors are better-suited for heavy duty use. You will need an electric rotary hammer drill for drilling into concrete, but there are battery-powered drills that are able to take on the smaller projects. Concrete anchors, when installed properly, are very difficult to remove, but can be broken off by hammering them back and forth until they snap.
Masonry Screws
Insert a masonry bit in a rotary hammer drill. Use the size specified on the box for the anchor you chose. If you do not know what size to use, experiment by drilling different size holes until you find one that does not spin out when tightened.
Drill a hole at least 1/4 inch deeper than the length of the screw. Drill through the material and into the block or concrete at the same time. If you expect the screw to set into the material, drill the hole a little deeper.
Install the screw with an electric drill. Do not over-tighten the screw or it will spin out.
Drive-in Anchors
Drill a hole through the material into the block or masonry about 1/2 inch deeper than the length of the anchor. Back in and out of the hole as you drill to clean out the concrete dust that can bind the drill bit.
Insert a concrete nail designed specifically for concrete and drive it down with a hammer. Concrete nails are hardened steel and coated to provide a rugged surface which holds very well in concrete or masonry.
Adjust the material and drill the rest of the holes. Work from one end to the other if your material is bowed.
Sleeve Anchors
Drill a hole in the concrete or block with a masonry bit.
Insert the sleeve anchor in the hole and tap it down with a hammer.
Turn the screw head or tighten the nut until the anchor is fully set. Do not over-tighten. Sleeve anchors with nuts on them can be pulled out the hole.