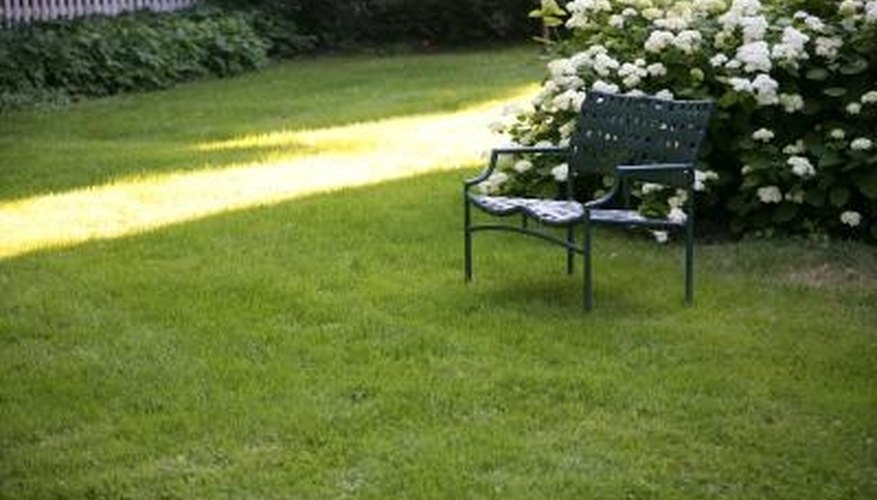 To prevent a bench from slipping on concrete, it's necessary to attach the bench to the concrete with wedge anchors placed through the bench's predrilled leg slots. Wedge anchors are threaded bolts featuring sleeves that expand when the nuts are tightened. Installation of wedge anchors requires the use of a hammer drill, which is an electric drill equipped with a piston that operates much like a hammer.
Set the outdoor bench where you wish to to secure it. Make sure the spot is appropriate prior to drilling any holes.
Place marks through the predrilled slots located at the bottom of each bench leg onto the concrete surface. Slide the bench to the side to expose the marks for easier access when drilling.
Insert a masonry bit into the hammer drill, making sure the bit has the same dimensions as the wedge anchors you are using. Make adjustments to the depth gauge on the hammer drill to the correct depth to prevent over-or underdrilling the holes. Drill the holes ½ inch deeper than the anchors' length.
Drill each hole straight down into the concrete surface to the required depth. Clean out any debris from inside the holes by sliding the spinning masonry bit up and down in the hole or by using forced air from a compressor.
Slide the wedge anchors into the drilled holes. Remove the nut to expose the bolt threads.
Place the bench legs over the threaded bolts. Thread each nut on by hand, making sure they don't bind. Tighten the nuts with a wrench or ratchet until each anchor's wedge feature is actuated.
Lift up on the bench to make sure it is secure. Finish the task by spray-painting the nuts with a rustproof paint the same color as the bench.
Things You Will Need
Marker

Hammer drill

Masonry bit

Tape measure

Tape

Wedge anchors

Wrench or ratchet set

Spray paint (optional)

Dust mask

Safety glasses

Ear plugs
Tips
Use wedge anchors recommended for outdoor use to prevent rust buildup due to moisture.

If the nuts are smaller than the bench's predrilled holes, place washers over the bolts prior to threading them on the nuts.
Warning
Wear safety glasses, hearing protection and a dust mask when operating power tools.