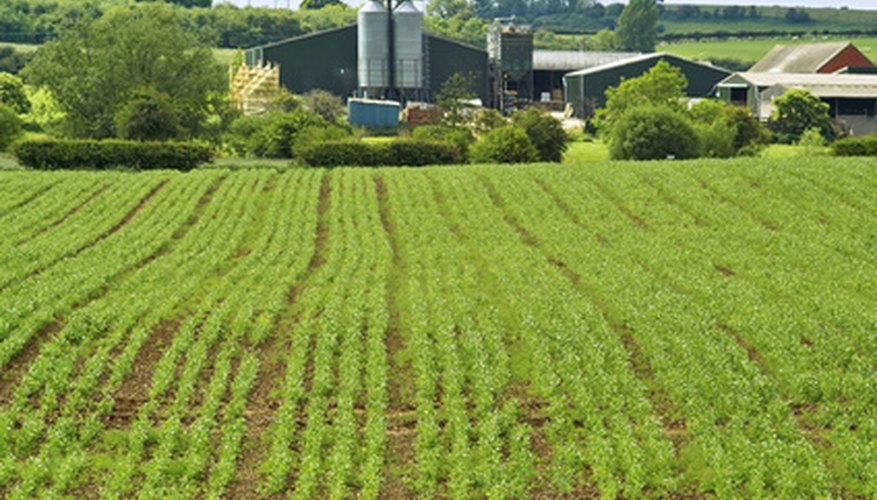 But for a few decisive factors, calculating the slope of farm land for the installation of drainage tiling is very much like doing so for similar projects in an urban lot or suburban backyard. The divergence relates in part to the size of the project in terms of acreage, as well as the depth and spacing of the trenches. In addition, the soil type will dictate the optimal flow rate for the drainage, and thus influence the slope determination. While contractors and landowners can employ expensive geographic information systems to calculate slope, a less-expensive—albeit less-precise—method is available.
Step 1
Use a Sharpie to make hash marks on two identical stakes, spacing the markings 6 inches apart. Examine the dowels side by side to confirm that the marks line up with one another.
Step 2
Locate the highest point within the scope of the drainage design and insert a dowel or stake into the ground. Affix a 10-foot-long piece of string (or cord) to the initial stake, running it along the decline.
Step 3
Hold the string (or cord) taut to the corresponding stripe on the second dowel, which you have placed in the ground at a depth equivalent to the first.
Step 4
Use the line level to ascertain the level location on the stake and mark it off. Measure the span from the mark at which the string was first held to the position at which it is level.
Step 5
Use a calculator to divide this figure by the distance between the dowels, in this case 120 inches, and multiply by 100 to get the slope percentage. Repeat where needed throughout the drainage design.