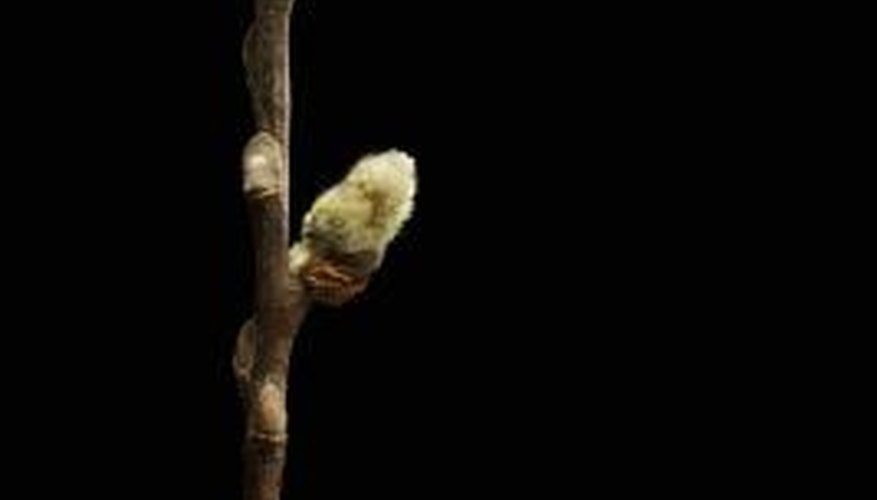 Root hormone is a substance that promotes rooting in plant cuttings. Common substances include commercial preparations, such as indole-3-butyric acid -- IBA -- and organic substances, such as willow water. Even honey has been promoted as a rooting hormone. How easy it is to root a tree with a root hormone depends upon the type of tree, the type of cutting and the conditions surrounding the rooting process.
Take a 6-inch cutting from the tree. The shoot should be green and from the current year's growth. Make the cut 1/4 inch below a leaf node, so that the node is near the bottom of the cutting.
Prepare a planting pot by filling it with moist sand or perlite, or a combination of the two. Poke a hole in the soil in which to plant the cutting.
Pinch off any leaves on the cutting, except for two at the top.
Lay out a paper towel and pour a dime-sized amount of rooting hormone powder onto it. Roll the cut-end of the cutting in the powder so that the lower inch of it is covered. Tap the cutting lightly to remove any excess hormone powder and stick it into the hole in the planting medium. The more leaf nodes buried under the soil, the better the root system will be. The cutting can be buried up to within 1/4 inch of the bottom of the leaves, if necessary. Move the potted cutting to an area that receives indirect sun.
Mist the cutting several times a day with water from a spray bottle. This provides it with humidity and keeps it from drying out.