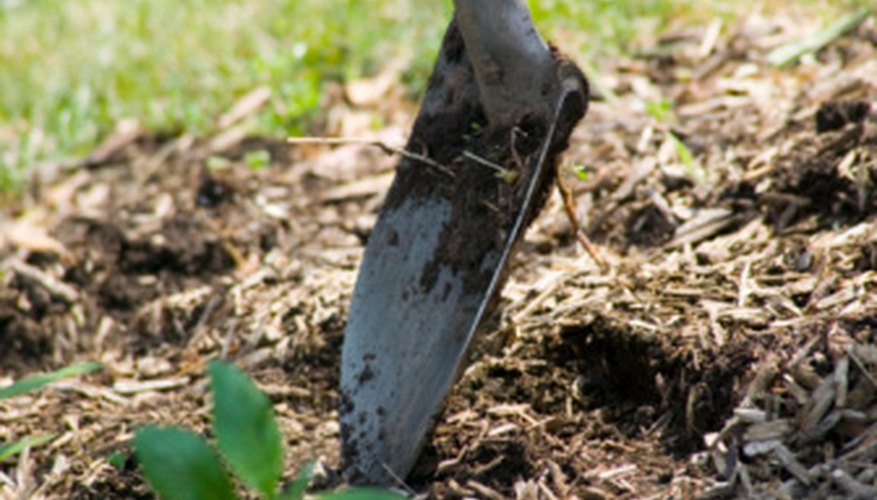 Grass roots grow horizontally as well as vertically, and can be invasive when it comes to your mulched flower beds. Edging the areas between your lawn and mulch helps to keep grass and weeds from taking over your flower beds. The process of edging also gives your lawn a finished look, because it provides a distinct mark between the lawn and the mulch. Mulch is less likely to migrate to your lawn if you have cut an edge as a barrier. You can edge your lawn by simple trimming, or you can add physical barriers if you want a more permanent solution.
Map out a location for your edging using a garden hose. The garden hose allows you to create rounded shapes or straight edges between the mulched area and your lawn. Experiment with different widths for your mulched beds until you find the width that looks the way you want.
Use a straight-tipped spade or edging tool to cut the edge along your marked border. Press the spade or edging tool straight down firmly at least 4 to 6 inches and scoop away the trimmed grass. Continue until you have edged the entire area between your mulch and grass.
Collect the grass trimmings and either compost them or dispose of them with your regular yard waste. If you are concerned that your grass may contain weeds, do not add them to your compost pile as they can germinate in the compost.
Trim your edges every two to three weeks to keep the grass roots from spreading horizontally into your mulched area.
Line the edge with flexible plastic edging or pavers if you would rather not maintain your edging as often by trimming.