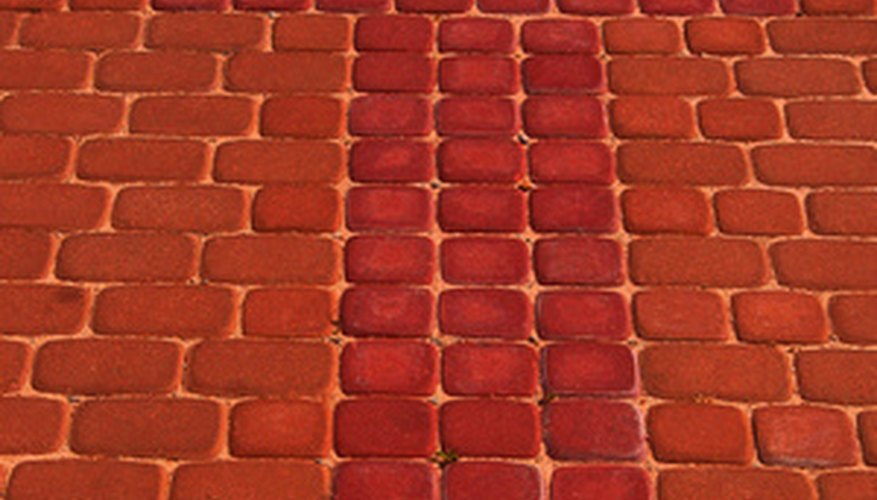 When using pavers over a preexisting concrete surface, you'll need to set the pavers in mortar. This keeps the pavers from slipping on the concrete. Setting paving bricks in mortar also helps control weed growth between the bricks. However, the mortar preparation and laying techniques you'll need are very different than those you would use to build a brick wall. With a little attention to detail, you can build a paved walk or driveway that will stay put for years to come.
Step 1
Make sure the concrete subsurface is clean; wet it down before applying the mortar.
Step 2
Combine the sand, cement and lime in a large tub or cement mixer and mix thoroughly.
Step 3
Add water slowly until the mortar mixture is soft and easy to work with but not too wet. To test, drag the corner of a trowel through the mix to make a 3-inch channel; if the sides sag, but only slightly, the consistency is right.
Step 4
Using the trowel, put down a layer of mortar on the concrete subsurface to a depth of about 1 to 1 1/4 inch.
Step 5
Lay the bricks into the underbed mortar, pressing just slightly to seat the bricks in the mortar.
Step 6
Remove any mortar from brick surfaces and surrounding surfaces before it sets.
Step 7
Cover the pavers with waterproof insulating blankets. Keep the area covered for at least 48 hours to allow the mortar to fully cure.
Things You Will Need
15 gallons dry sand

6.38 gallons Portland cement

1.12 gallons of hydrated lime

Large tub or cement mixer

Brick pavers

Square-notched mason's trowel

Waterproof insulating blankets