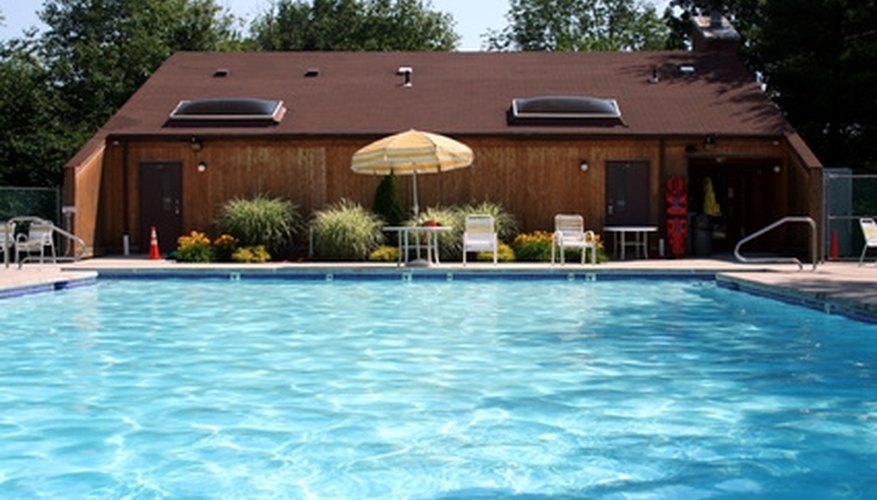 Swimming pool and pool house image by Jim Mills from Fotolia.com
Epoxy sealants are perfect for pool and deck surfaces. The epoxy is painted onto the concrete surface of the pool to seal and protect it. It can also be applied to the spa, deck, or other surrounding surfaces to add texture and reduce slipping. These types of sealants also prevent stains and the build-up of algae. Epoxy sealants are also an inexpensive alternative to tile in the pool area. Sealing the pool surface with epoxy will make your pool look like new and will protect the surface for many years to come.
Scrape the entire concrete pool surface with a wire brush first, to remove any flaking paint. Then sand off any remaining debris with 800-grit sandpaper. This removes all of the loose particles that may be on the surface and gives the new epoxy coat a good surface to adhere to.
Power wash the surface and allow to dry for one to two hours before continuing. You want to make sure the concrete has completely dried, so the epoxy paint will adhere.
Pour epoxy paint into a paint tray and use the roller to apply a generous coat of sealant to the entire surface. Smart Seal seals effectively with one coat, but two coats are recommended for maximum surface protection.Two coats should be applied to bare concrete surfaces. If done properly, the epoxy sealant should last from eight to ten years.
A newly poured concrete pool should be allowed to cure for at least 30 days before coating with an epoxy such as Smart Seal. And most importantly in scheduling, bare concrete should be protected before winter weather. When allotting time for this project, remember to figure curing time for concrete (if necessary) and the curing time for the epoxy sealant. The process of sealing a surface with epoxy will take about two days. The epoxy itself should have at least 48 hours to cure. If you are sealing a pool, it is recommended to wait at least this long before filling with water.
Apply a second coat after an hour if desired. Allow the epoxy surface sealant to fully cure for at least 48 hours.
Things You Will Need
Roller cage and applicator

Extension pole for paint roller handle