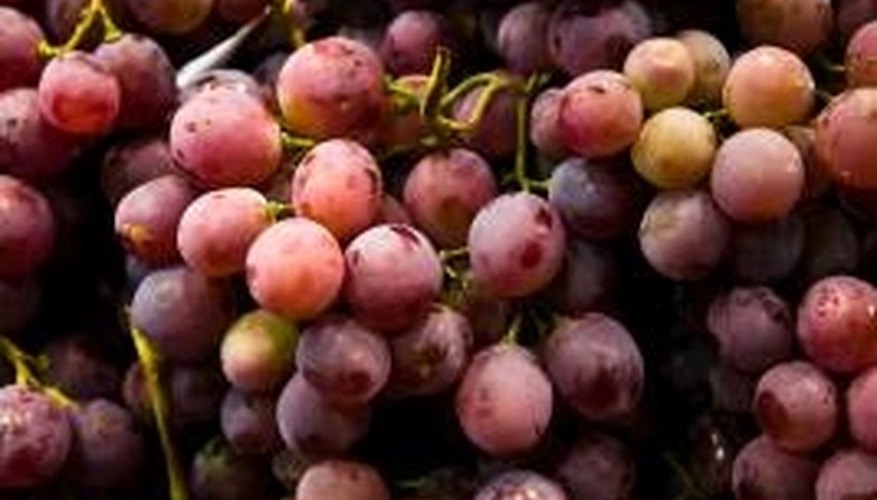 Grapes are harvested for a variety of reasons; the fruit makes a great snack on its own, and is also useful for making jam, jelly or wine. While Iowa winters provide a shorter growing season than in many other states, gardeners will still enjoy a grape harvest if they plant grapevines properly. Selecting the right site and ensuring room for growth are key to a grapevine's success.
Select a planting site that will afford full sun light and well-drained soil. Grapes tolerate a wide range of soil types, but the pH level should be between 5.5 and 7.5. To lower soil pH, add sulfur, and to raise it add limestone.
Purchase a bare-root, dormant grapevine from a reputable vendor, such as a garden center. Varieties recommended for Iowa include concord, buffalo, vanessa and steuben. If you are gardening in northern Iowa, select a variety with winter hardiness that will ripen early in the season for the best results.
Plant grapevines in late March or early April. If not planted immediately after purchase, keep the roots moist by wetting them and storing the vines in a cool location until planting. Soak the roots in water for two to three hours immediately prior to planting.
Dig a planting hole slightly larger than the root system of the plant. Spread out the roots and set the plant in the ground. Backfill the hole with the original soil, firming the soil as you backfill. Plant multiple grapevines 6 to 8 feet apart.
Cut back the strongest cane to only include three buds and remove all other canes. Set a stake approximately 5 feet tall in the soil near the plant and tie new shoots to it as they emerge.
Supply the plant with one inch of water per week.