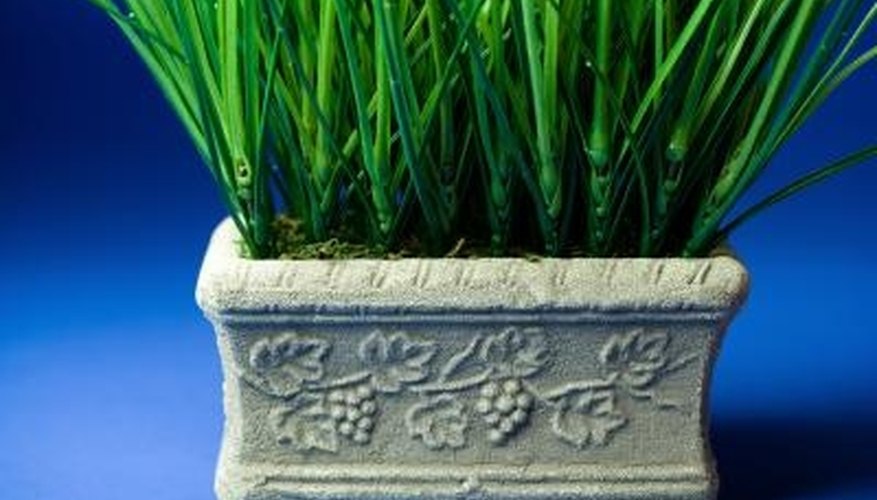 Concrete flower pots can remain outside throughout the year in any climate. You can make your own concrete flower pots using molds available at most craft and hobby stores as well as from online retailers. Most commercially available cement flower pot molds are made from aluminum, latex and plastic. With the wide variety of shapes, sizes and designs of cement flower pot molds available, the most difficult part of the project may be deciding which mold to purchase.
Coat the inside of the cement flower pot mold with a release agent. Commercial products work, but you can also use vegetable oil, petroleum jelly or a blend of castor oil and denatured alcohol. To make the castor oil/alcohol mix, combine 2 oz. of castor oil with 16 oz. of alcohol. Apply the mixture with a spray bottle.
Mix concrete topping mix in a bucket with water following the ratios indicated on the concrete package. Topping mix is a good choice for cement flower pots as it does not contain stones and gives your flower pots a smooth finish. An electric drill with a paddle drill bit works well to mix the cement, but you can also use a small shovel or wooden spoon.
Pour the mixture into the cement flower pot mold. Tap the sides of the mold to release any air bubbles that may be trapped. Let the cement dry in the mold for 48 hours.
Flip the mold upside down on a sheet of plywood to remove the flower pot. Some aluminum molds require disassembling to remove them from the dried cement form. Allow the cement flower pot to sit for seven days before planting anything in it. This gives the concrete time to cure completely.
Things You Will Need
Flower pot mold

Release agent

Concrete topping mix

Water

Bucket

Electric drill

Paddle drill bit

Plywood
Tip
Decorate the cement flower pot with water-based concrete stain, acrylic paint, flat-backed glass marbles or mosaic tiles after curing. Clear waterproof construction adhesive works to attach embellishments to the concrete.
Warning
Do not allow concrete to dry on your skin. Wash any away from your skin with warm water and soap as soon as possible.
References