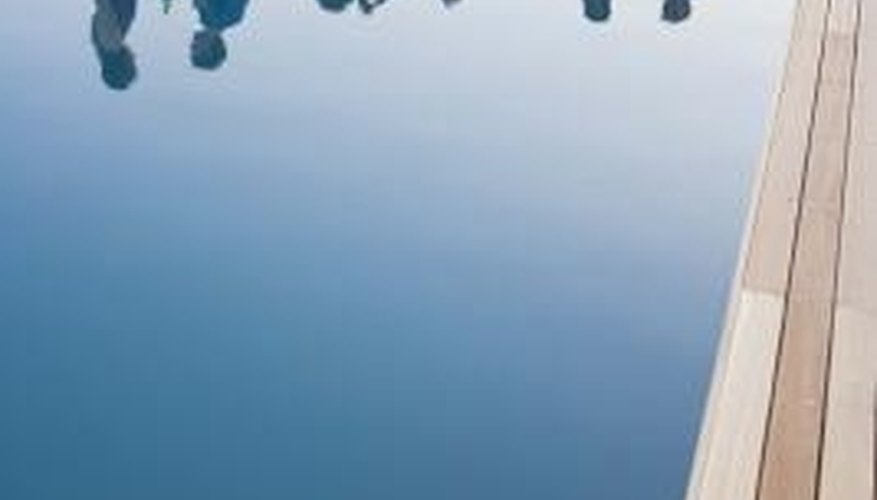 Kreepy Krauly is a brand name of automatic pool cleaner designed to remove dirt and debris from the bottom and sides of swimming pools. Keeping your pool clean and free of debris is important for hygiene and for proper functioning of the pool's pump and other features. If your Kreepy Krauly encounters minor operating problems you can usually troubleshoot them yourself.
Inspect the swivel on the top of the unit if it is tracking in a repetitive pattern in the pool. Check the return water flow and the hose of the Kreepy Krauly to ensure it isn't bent or kinked.
Check the return line water flow and redirect with an eyeball diverter if the Kreepy Krauly stays around the steps of the shallow end of the pool. Look to see if the automatic regulator valve is installed correctly and not clogged with debris.
Inspect the auto regulator valve to ensure it isn't clogged and that the dive float mechanism is freely operating if the Kreepy Krauly is pulling air from the surface.
Look to see if the drain is closed and the drain grate is installed properly if the Kreepy Krauly stays on the main drain.
Inspect all suction lines to ensure they are closed and that the Kreepy Krauly suction line is the only one open if the unit is not moving or pulsating as it should. Look for debris inside the filter or pump basket.